Messy event busts squash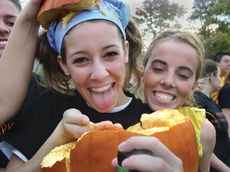 Breanna Gaddie
Northern Kentucky University's third annual Pumpkin Bust will feature several fun and wacky activities to get students in the fall spirit.
The Pumpkin Bust, organized by the Activities Programming Board, will be held Friday, Oct. 29 at the Woodcrest intramural fields, and will feature competitions such as pumpkin carving, seed spiting and pumpkin pie eating contests.
Individuals will accumulate points for themselves as well as their team from each event. The male with the most points will be crowned king and the female with the most points will be crowned queen. Trophies will be awarded to teams placing 1st, 2nd and 3rd.
This year's competitions include:
Pumpkin carving contest
Each team's pumpkin will be judged on creativity and quality of artwork. Teams participating in the pumpkin carving contest must send two delegates at 3:00 p.m. to pick up their pumpkins.
Pumpkin pie-eating contest
The contestants must keep their hands behind their backs, and whoever eats the most pumpkin pie in two minutes wins.
Seed spitting contest
Each contestant has one minute to spit as many pumpkin seeds onto a piece of paper as possible. Points will be given for distance. The contestant with the most points wins.
Tug-o-war
The team that pulls their opponents into the pool of pumpkin guts wins.
Pumpkin relay
The relay will use four team members who will slide down a Slip-and-Slide, run through an obstacle course while carrying pumpkins between their knees, and search for a small pumpkin in a pool of pumpkin guts.
Last year's Pumpkin Bust attracted more than 300 people and 25 participating teams.
APB members hope that this year will be even more fun than last year. Stephanie McGoldrick, the program coordinator for student life, said, "The Pumpkin Bust is an excuse for students to be kids again. Who can't have fun with some pumpkin guts and field games?"
Teams of four to eight can register the day of the event at 3:30 p.m.
Registration is $15 and includes a free Pumpkin Bust 2004 t-shirt. The competitions will begin promptly at 4:00 p.m.