Guests bow to professor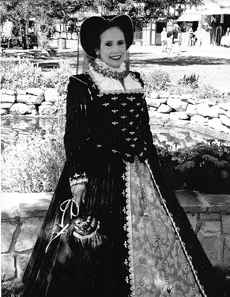 Margo Jang
If you see Margo Jang at the Ohio Renaissance Festival, be sure to grovel. The associate English professor serves as one of the queen's ladies in waiting.
When someone is hired to work for the Renaissance Festival, Jang explains, they have to go through several classes on dialect, Elizabethan history and acting. They also create a character they will play, which can either be factual or fictional.
Jang said she spends a lot of time fashioning and creating her characters, although she does have to do her real job sometimes.
She called performing at the festival "a labor of love."
Jang's character is second only to the queen in commanding the highest level of deference among the other cast members.
"I'm lucky," she said. "Everyone else has to grovel to me."
She credits this occupation to her "impulsive perfectionist" behavior towards her gowns.
Jang has more than 20 gowns, most of which she hand-made. They are made of a wide range of fabrics, intricately hand embroidered, that are representative of her character.
There are so many different layers of a noble lady's gown of that time that some of her gowns weigh over 12 pounds.
"I put a heck of a lot of time into them," she said.
Kelly Bishop, entertainment director for the Ohio Renaissance Festival, agrees. "Margo has probably the best wardrobe of the cast here," she said. "She's very meticulous about her costumes. She's told me she could go two years without wearing the same gown, and I believe her."
Bishop said Jang and the other cast members work there because of their love for the history and desire to keep it alive in the minds of others.
"She does very well," Bishop said. "On student days, Margo helps to teach the children about the history, and she's very good at it. She's a cool, smart lady."
Jang also has an unusual talent with birds and used to be referred to by her coworkers at the fair as "The Bird Lady." Part of her character's line of work is dealing with the queen's aviary.
With a doctorate in applied linguistics, Jang enjoys helping out the newcomers.
She also lectures during the summer classes on how the different classes of people in that time period would have spoken.
"If we really talked Elizabethan no one would understand us," she said. "We speak in BFA – Basic fair accent."
Jang loves performing because she's close to the other cast members and enjoys wearing her elaborate costumes.
She even participates in other festivals throughout the country before Ohio's festival in August.
She has been a part to the Ohio Renaissance Festival for 14 of its 15 years. Jang will be performing every festival day this year through Oct. 24, except Oct. 9.
For more information on the festival visit www.renfestival.com.