Vaccine offered in time of need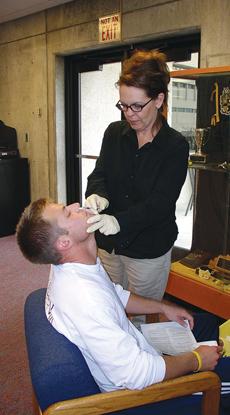 Nicole Jones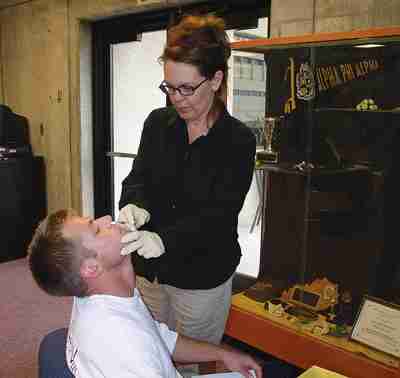 Nicole Jones
In an effort to combat the flu shot shortage, Northern Kentucky University distributed FluMist, an intranasal flu vaccine, to students who were not in the high-risk category for a flu shot.
Students wanting to receive the vaccine were asked to bring their NKU All Card and $20 to the University Center Oct. 21, 22, 25 or 26.
The flu shot shortage that has plagued the United States is caused by half of the flu shot supply being contaminated.
"The United States receives 50 percent of its flu vaccine from a company overseas and that vaccine was contaminated. We do not have that vaccine available," said Dr. Joann Kennedy Randolph, assistant professor of nursing at NKU. "There is no way to remake the vaccine; it is made months in advance. Thank goodness they test it ahead of time."
According to the FluMist Web site, FluMist is given in the nose and is designed to reproduce effective immunity elsewhere in the body, including the lungs. It is the first flu vaccine in the United States given as a nasal mist instead of a shot.
FluMist does not protect 100 percent of individuals vaccinated. In fact, some people are advised not to receive the FluMist vaccine, including "adults 50 years or older and children younger than 5 years of age,
people who have long-term health problems with heart, kidney, asthma, lung, anemia or other blood disorders and diabetes, children or adolescents on long-term aspirin treatment, pregnant women and anyone with a history of Guillain-Barre Syndrome," according to the Health, Counseling and Prevention Services.
The best time to receive the vaccine is early fall, before the flu season begins. For example, if the vaccine is given in October, it will last the entire flu season. "For the viruses in the year, you have immunity and you might get the virus, but usually you get less of a case," Randolph said. "You can get FluMist into November, but the flu season begins in November so you don't want to contaminate yourself and wait until you have the flu."
There are plenty of ways to safeguard oneself during the flu season. Randolph said, "Most exposures are from desktops or countertops or things like that. If someone who has the virus puts their hands on a countertop and then you put your hands on the countertop, you may get the virus."
Randolph also stresses not sharing drinks with anyone during the flu season, avoiding touching the face and then touching other surfaces, and going to the restroom several times and day and washing your hands with a lot of lather to kill germs and bacteria. "Obviously, if someone is coughing on you, you are exposed and you may get sick, but using these simple steps will avoid exposure to illness," Randolph said.
For students with a tight budget, there are ways to protect oneself without spending money on FluMist. Randolph suggests using Purell because it is tested for antibacterial capabilities. "I don't know about the Kroger brand or the Walgreens brand, but I know about the Purell brand. It is a small bottle that is able to be put in a purse or a pocket to carry around for convenience," Randolph said. It is not a substitute for hand washing, but it will keep your hands free of bacteria in between washing.
"This is an important time to learn. You should be learning certainly your history and English, but you need to also learn prudent practices for your health," Randolph said. "You need to learn about yourself and your health history."
For more information, stucontact the Health, Counseling and Prevention Services by calling (859) 572-5650 or stopping by the University Center room 300. Those still seeking the flu vaccine can make a reservation at the Northern Kentucky Health Department. Residents are asked to call the health center in their county. No walk-ins will be taken. Health centers in the Northern Kentucky area can be contacted at the following numbers:
Boone County Health Center (859) 363-2060
Campbell County Health Center (859) 431-1704
Grant County Health Center (859) 824-5074
Kenton County Health Center (859) 431-3345
Approximately 800 flu shots will be given, 200 per health center. The Health Department doesn't anticipate receiving any more flu vaccine for the flu season. The cost is $15 and can be paid by cash or check. Medicare and Medicaid are also accepted.