Sports complex in future plans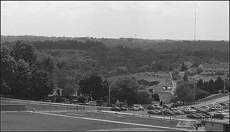 Larry Blake
A new outdoor sports complex is being planned in the 100 acres Northern Kentucky University has purchased on Johns Hill Road.
"We have several acres across the highway . . . it's actually outdoor sports facilities," Vice President for Facilities Management Larry Blake said. "There may be a building or two involved we are looking at planning right now, not building."
Much is being planned for the land including new baseball and soccer fields, tennis courts and stands, tracks and other possible structures.
However, because the parking garage is being built Blake said, "We've put more emphasis on getting the soccer field done."
The land on Johns Hill Road is not new to NKU, but because of the new buildings being constructed on it, more projects have been planned on it, including new intramural fields. "We have been building up the land for years, some of it we just bought, but some of it we've had for years," Blake said.
During the initial $35,000 survey, plans will be made about the necessary roads and buildings, and how much money these structures will cost. After the survey, which will be completed in the next few years, the actual design of the complex and the building of the structures will take place, if the necessary funds are in place.
Blake said these planned structures, when built, will cost a good deal of money. "But again we need some private money to do that, so we're hoping for donations," he said.