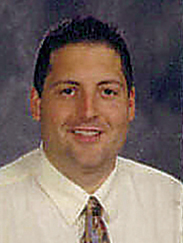 The debate between Nick Clooney and Geoff Davis will give voters a chance to hear the views of two candidates for Kentucky's 4th District Congressional seat.
However, not everyone's voice will be heard.
Michael Slider, the Independent candidate, will not be participating in the debate Wednesday, Oct. 27 at Regent's Hall.
The host of the debate, Northern Kentucky's Legacy group, decided to exclude Slider from the debate.
Wade Williams, Legacy's Congressional Debate Subcommittee Co-chair, said Legacy set a standard that only the two leading candidates in a political race will be invited to their debates.
Williams said Legacy uses the Commission on Presidential Debate's criterion for a debate that says a candidate must have at least a 15 percent support rating in the polls. He said Slider has not shown electoral success in any polls and was therefore excluded.
"The problem with that," Slider said, "is the reason the [Commission] created that standard in the first place was to purposely keep [Ralph] Nader out of the debates. It was a very undemocratic standard to begin with."
Slider said the other problem with the standard is that the polls only include Clooney and Davis' names.
"I guarantee that although I might not be showing 15 percent, I would be showing up on the radar if they included my name in the polls," Slider said.
"We're doing the right thing for the voters," Williams said. "They're going to hear the real issues."
Slider said voters won't hear the whole story. "They only get to hear the two major parties which are both controlled by corporate money," he said, "and they're not getting the other perspective on things. They're missing a whole perspective by not getting to hear what I have to say."
Slider said both of his opponents would accept him in the debate and have been supportive of him. Davis publicly welcomed Slider to the debate at a recent forum in Covington.
Davis spokesman Justin Brasell said, "Mr. Davis feels that all the candidates should be participating."
The Clooney campaign "would certainly welcome Mr. Slider," according to Clooney spokesman B.J. Neidhardt.
Slider has participated in four debates, two with both candidates and two with Davis. The most recent debate with Clooney and Davis was broadcast in all 24 counties of the 4th District Monday, Oct. 18.
"I've more than held my own," Slider said. "I really wish that I had a chance to express my views at Northern Kentucky University where a lot of young people would get to see me and say 'here's a guy who means what he says and speaks the truth.'"
Slider said it is unfortunate that so few younger voters voted in the last election. "It's not because all young people are lazy," he said "it is because they are uninspired; they don't see a reason to go to the polls.
"Young people tend to see through things a little bit better. They're not so set in their ways, they're not so loyal to a party, and they're not going to show up unless there's somebody who really inspires them."