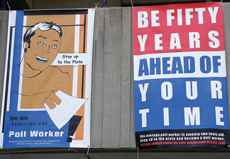 Nicole Jones
Students wanting to be more involved in the upcoming election have the option of becoming a poll worker.
The Scripps Howard Center for Civic Engagement aids students in signing up as a poll worker in their county.
Interim director of the Scripps Center, Jean Ferrante, said she is overwhelmed by the student response at Northern Kentucky University. "We were hoping for 150, and we have 199 names ready now, with more coming in," she said.
Students interested in becoming a poll worker may have to work long hours, possibly from 6 a.m. to 6 p.m. Students will have to go through a training session before working, and pay is $67 to $140, depending on the county. "We're still waiting to see how many students the precincts are going to take," Ferrante said.
There are several requirements for students to be a poll worker, including attending a training session, being a registered voter, being a poll worker in the county that you are registered in and being available to work during the hours the polls are open.
Students in the poll worker program also a chance to win cash prizes for essays, artwork, or photographs submitted that "capture your experience as a poll worker." Students may not work on submissions while working at the polls, however. Work must be submitted by Nov. 16 at 4:30 p.m. to the Old Science building, room 536. First prize is $300, second $200 and third $100. Prizes will be given for the top three essays and the top three pieces of artwork.
NKU was only one of 15 colleges nationwide that received a federal grant to encourage students to take a more active part in the Election Day process. According to the Scripps Howard Web site, the average age of a poll worker is 72. The organization believes that it is time for students to "step up to the plate," and show that they are interested in American politics and democracy.
The U.S. Election Assistance Commission (EAC) awarded the grant, which was created by the Help America Vote Act of 2002 (HAVA). According to the PR Newswire, the colleges that were awarded the grant were chosen "based on their innovative approaches to engaging college students and their ability to ensure that these students would work as poll workers on Election Day."
There was a shortage of poll workers in the 2000 election, and it is estimated that the nation needs as many as 2 million more workers to fill the gap this year.
Kentucky counties that will be involved in the Help America Vote College Poll Worker Program include Boone, Campbell, Gallatin, Grant and Kenton. Ohio counties include Clermont and Hamilton.
Other institutions chosen to participate include: California State University, Eastern Michigan University, University of Maryland, University of North Texas, University of Baltimore, Illinois Central College and Wiley College.
If interested in becoming a poll worker, call the Scripps Center at 859-572-1448, and for more information visit http://civicengagement.nku.edu.