Art critique offers insight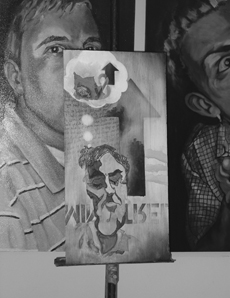 Breanna Gaddie
Art students recently had an opportunity to see how their contemporaries viewed their work.
The Next Generation of Artists hosted an art critique Oct. 21 on the Fine Arts building's fourth floor lobby.
NGA is a new organization to NKU's campus. Aside from the group's introductory meeting Oct. 12, the critique was the first real social gathering of members.
"This isn't about comfort. It's about art," Alex Jarman, NGA president said as he summed up the purpose of the new organization. "One of the focuses of this group is to get our artwork out."
Kevin Muente, sponsor of NGA and an art professor, attended the critique and felt impressed by the group's independence. "I think there was decent discussing. Alex kept it up on his own," Muente said.
"I think for our first critique, we had an awesome turn out," Leah Goshorn, vice president of NGA and art major, said.
The group of about 23 students critiqued almost 20 pieces of artwork, which included a variety of photographs, self-portraits, paintings and drawings.
"It's been long overdue," Jarman said. "Something like this has needed to happen, and that explains the turn out.
"I was actually pretty surprised by the turn out because when you're in an art class, a critique is equal to taking a test," Jarman continued. "You find out what you did wrong. For people to come to this, it's different."
"I think it went good," Muente said. "It was more exciting than critiques we do in class.
"They got professional advice from three different professors."
The other two professors who attended other than Muente were art professors Laura Hollis and Matthew Albritton.
"The faculty showed up this time and made the critique valid. It shows that they think it's important," Jarman said. "Usually, we won't be inviting the faculty because it sets a different mood."
He said they attended this time because of the approaching junior review.
Jarman, Goshorn and treasurer Brian York, the three NGA officers who attended, brought in pieces of art to be critiqued by the group.
"For showing pieces that are not finished, it's interesting to see how people are experiencing it so far," Goshorn said.
"When I'm doing my artwork, it just my point of view," Jarman said. "You can be kind of blind to the way it's working. This helped me realize what I can be and what I can become. People can say, 'Hey this is good. It's going somewhere.' Sometimes it just takes that fresh set of eyes."
"The thing that gets in the way is your ego," Jarman said. "A critique is a good thing that keeps you grounded."