Women's golf, tennis rank in GLVC championship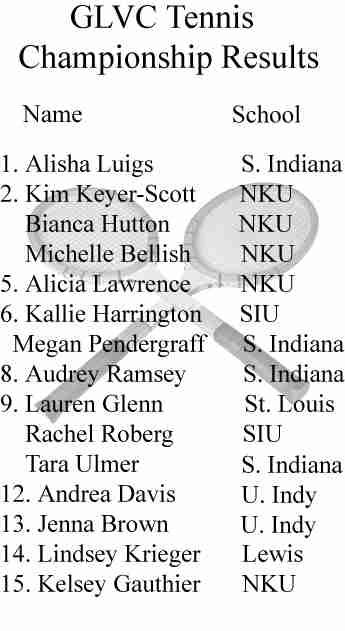 The Northern Kentucky University women's golf team captured the Great Lakes Valley Conference Championships title Oct. 4, with a playoff victory over the University of Southern Indiana.
The Norse rallied from a seven-stroke deficit in the final round to tie Southern Indiana after 36 holes and force the playoff.
NKU and Southern Indiana each totaled 613 after 36 holes, but the Norse won the playoff by one stroke to capture their second GLVC title in the past three years.
Alicia Lawrence shot a 2-over-par 74 to lead NKU's comeback at the par-72 Hickory Point Golf Course. Lawrence finished with a two-day total of 154 and earned GLVC Freshman of the Year honors after placing fifth in the individual competition.
Bianca Hutton of NKU fired a 75 and tied teammates Kim Keyer-Scott and Michelle Bellish for second place with scores of 153.
Keyer-Scott shot 77 in the second round, while Bellish finished with an 80. As a team, NKU totaled 306 in the final round.
Alisha Luigs of Southern Indiana won the medal with a two-day total of 146 and was the GLVC Player of the Year. NKU's Daryl Landrum earned GLVC Coach of the Year accolades.
Landrum also was GLVC Coach of the Year in 2002 after NKU won the GLVC crown.
The NKU women's tennis team competed at the GLVC Championships on Friday, and the Norse split two matches.
The fourth-seeded Norse posted a 5-0 win over fifth-seeded Bellarmine University in the first round.
Kari Goodrich collected wins in singles and doubles competition to lead NKU, which entered as the defending GLVC champion.
In the semifinals, the Norse dropped a 5-0 decision to top-seeded University of Indianapolis.
NKU's record fell to 7-4, and faced second-seeded Lewis University Saturday.
The Norse entered as underdogs, but prevailed 5-4 against Lewis.
Goodrich, Lindsay England, Clara Dorado and Jessica Smith all won their singles matches. The team of Goodrich and Smith pulled off a win in doubles competition for the Norse.
The Norse men's team finished fifth behind Murray State University, Morehead State University, Southeast Missouri State University and Southern Illinois University with a final score of 884 at the Murray State Invitational Oct. 4 and 5.
Jonathon Ehlen finished the first day tied atop the leader board with scores of 69 and 72. Ehlen finished the second day with another 72, and ended up in a tie at sixth place, finishing with a score of 213.
David Shearer also placed in the top 20. Shearer finished in a tie for 20th place, with a final score of 223.
Michael Kessling and Jerod Cahill ended the tournament tied for 28th place, finishing with 226. Mark Krahe rounds out the NKU team, finishing in a tie for 38th place after shooting a 232.
*Article by Sports Information