Norse to battle Division I teams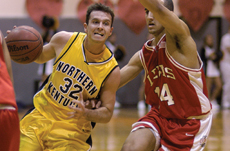 Blue
There are a few challenges early on the for the Northern Kentucky University men's basketball team in 2004.
The team will play three exhibition games against Division I teams, facing the University of Kentucky on Nov. 3, the University of Cincinnati on Nov. 8 and concluding their stretch battling Ohio State University on Nov. 9.
These games were made possible when the NCAA changed the rule on Division I teams playing Division II and III teams, now allowing exhibition games before the season.
Head Coach Dave Bezold is very excited about the opportunity for his team.
"It gives our program and university tremendous exposure. Our kids will be very excited and ready to play."
NKU has played Cincinnati the last few years at the Shoemaker Center. It will be the first ever meeting between NKU and UK.
UK posted a 27-5 record last season and won the Southeastern Conference Championship. UC finished last season with a 25-7 record while OSU finished 14-16 last year.
Assistant Athletic Director Kurt Moeller was instrumental in starting the Cincinnati series because of his friendship with a member of their athletic department. Assistant Athletic Director Scott Eaton was able to arrange the OSU game because of his relationship with a member of the OSU coaching staff.
"The Kentucky game was a mutual agreement between the two schools. There were many people involved in this decision," said Eaton.
NKU will have some Division I transfers with experience against these opponents on the team this season.
Tory Reed, a 6-foot-8-inch center averaged 3 points per game and 3.7 rebounds at the University of North Carolina-Charlotte two seasons ago. He also scored 13 points against Cincinnati that year.
Bryant Northern, a 6-foot-1-inch guard averaged 3 points per game at Louisville two seasons ago. He scored 18 points against Ohio State during the 2002 season.
NKU returns two top guards from last season in senior Mike Kelsey, who averaged 16.9 points per game, and Steve Purdon, who averaged 10 points last season. Both played and had success in last year's game against Cincinnati.
"We have guys who have played Division I or at least played this kind of competition before," Bezold said.
NKU also signed 6-foot-4-inch freshman forward Harrison Morton from Lexington Catholic High School. He has two years of experience playing at Rupp Arena in Lexington for the Kentucky High School State Tournament.
Eaton feels this is a win-win situation for the Norse. "This will bring a lot of respect and credibility to our program," he said. "We have a great deal of respect for their programs.
"It will be great exposure for our program and our university."
NKU begins their regular season Nov. 19 against Michigan Tech University in the opening round of the John L. Griffin/Lions Club Classic at Regents Hall.