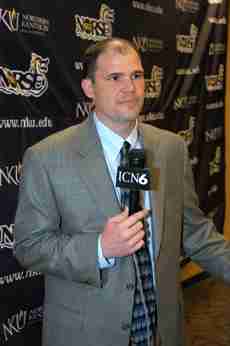 Blue
In this week's hot seat, John interviews men's basketball head coach Dave Bezold. Bezold was named head coach after being the full-time assistant for 14 years under Ken Shields.
John Rasp: What is your hardest adjustment going to be from going from assistant coach to head coach? Dave Bezold: Instead of making suggestions and giving suggestions you have to make decisions.
JR: If you had to pick five of your former players to come back, which ones would you pick? DB: LaRon Moore, Paul Cluxton, Craig Conley, Kevin Listerman and Cliff Clinton.
JR: Who is the best basketball player out of your assistant coaches? DB: David Marshall.
JR: Who will be your most improved player from last year? DB: There's four of them that could be: Jordan Stowers, Kevin Reinhardt, Brian Lewin and Kevin Schappell.
JR: Do you have any goals for next season? DB: Our athletic goal is always to win a national championship.
JR: Who will get more technical fouls next year, you or Coach Winstel, and by how many? DB: Coach Winstel will easily get more. She'll probably get seven more than me.
JR: Out of your players, which one(s) can you out shoot from the free-throw line? DB: All of them.
JR: Who is the best defensive player you've ever coached? DB: Either Kevin Listerman, LaRon Moore, or Reggie Talbert.
JR: Last year, both you and Brian Neal were the basketball assistant coaches and both of you have moved on to head coaching positions (Brian Neal is the head coach for the Thomas More Women's Team). What does that say about NKU? DB: A lot of that has to do with the influence of the head coach that you are working for. Also, winning allows you to move on.
JR: Between you and Brian Neal, who will have the most wins next year? DB: He should because he has an NCAA tournament team returning. But I like our team.
JR: Playing Kentucky, Cincinnati, and Ohio State in exhibitions, do you feel you can compete? DB: Whenever we step on the floor we want to win everything we compete in. We want those teams to expose some of our weaknesses and things we need to work on. And things we do well in those exhibitions, we'll have to build on in the regular season.
JR: How do you prepare for a Division I opponent? DB: You prepare yourself and everything should take care of itself from there. We can't simulate what these teams have in practice, even if we were to invite you to practice.
JR: Do you have a starting five in mind? DB: No, not even close. Oct. 15 (the first practice date) everybody will start at the same level and each player can earn their minutes.