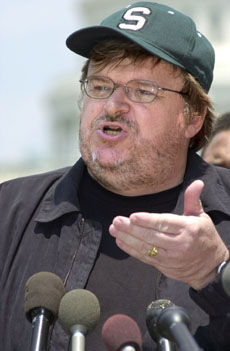 KRT Campus
When conservative radio talk show host Mike Gallagher caught wind that Michael Moore was coming to Pennsylvania State University with the help of student fees, he made on-air plans for a "counter event" in Happy Valley, Pa.
Gallagher expressed outrage during his nationally syndicated radio show Wednesday that student funds were being used to pay for Moore's appearance. He vowed to come to Penn State to fund-raise the exact amount needed to bring Moore to town and "top it by a penny," said Jason Hiatt, producer of Gallagher's show. All the money raised will be used to buy "care packages" and other necessities for the soldiers in Iraq, he said.
Hiatt said he was busy Wednesday working out the logistics of getting Gallagher to Happy Valley on Oct. 22, the tentative date of Moore's appearance.
"At this point it looks good now," Hiatt said. "It was not just an off-the-cuff remark."
Moore has asked for about $15,000 in speaking fees. More than $30,000 will be needed to support his trip to Penn State. The University Park Allocation Committee gave the College Democrats about $23,000 for the event. The money UPAC gave the club came from an activity fee all students are required to pay. UPAC members have said publicly that although UPAC rules forbid allocations to "political advocates" they decided fund Moore because he is a filmmaker and a "significant public figure." Hiatt said the circumstances of Moore's visit were brought to Gallagher's attention Wednesday.
"We got all this feedback," Hiatt said. "We are going to turn this negative thing into a positive."
Sources said details of Moore's appearance at Penn State were still in the process of being finalized Wednesday.
Moore could not be reached for comment Wednesday. A publicist for Moore, who declined to give her name, said Moore "is not doing individual interviews" with the media at the cities he visits. A handful of State College, Pa. listeners called Gallagher's show to pledge money.
By Wednesday afternoon Gallagher's Web site, www.mikeonline.com, sported a link where people could donate to his State College fundraiser.
Moore is currently on a 60-city "Slacker Uprising Tour" where he hopes to encourage traditional non-voters to get to the polls Nov. 2.
Megan Green, president of College Democrats, could not be reached for comment on Gallagher's planned visit, despite repeated attempts.
College Republicans are happy to hear about Gallagher's appearance because it will help "balance the campus," said Andy Banducci, president of the organization.