Ashland sweeps Norse volleyball team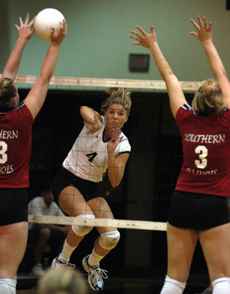 Blue
The Northern Kentucky University women's volleyball team got the taste of defeat Oct. 6 as Ashland swept the Norse in three games at Regents Hall. With the win, Ashland improves to 13-3 on the year while the Norse fall to 10-8.
Ashland was led by Carrie Ritchie and Mary Kate Glowe. The pair combined for 33 kills and 24 digs. In the first game Ashland put together a pair of runs to win a game that was back and forth. Ashland went on an 8-1 run to finish the first game and win 30-24.
In the second game, Ashland went on a huge run when the game was tied at 9 to take the game 30-17. Ashland kept the Norse at bay, holding NKU to a .069 hitting percentage.
In the third game, the Norse were leading late when the Eagles rallied to take the third game 30-26.
All-American Kristen Koralewski led the Norse with 14 kills and 10 digs. Amber Timmons finished the game with 16 digs to up her career total to 995. Andrea Lanham finished the match with an astounding 31 assists.
Ashland avenged an earlier defeat at the hands of the Norse. Last month the Norse defeated them in four games. The Norse continue their season Oct. 15 and 16 as St. Joes and Indianapolis come to Regents Hall.