Students seek thrills, plummet 13,000 feet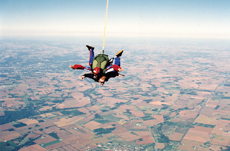 Skydive Greene County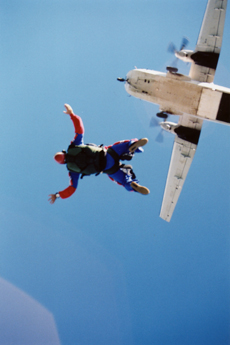 Skydive Greene County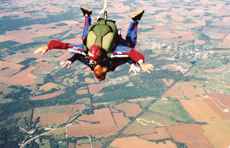 Skydive Greene County
The green light flashed as the door to the airplane opened. Everyone began adjusting their goggles and tightening the straps to their parachutes. One by one, they jumped out of the plane, falling 13,000 feet to the ground.
The Outdoor Adventure group at NKU took 16 students to Xenia, Ohio on Sept. 18, where they fell 176 feet per second before opening their parachutes.
Jill Kleiser, assistant director for Recreational Programs, partially organized the trip.
"We've offered two events in the past, but there weren't enough people to go," Kleiser said.
The idea for the class originated from a conference.
"A lot of other schools have skydiving clubs," Kleiser said. "We thought it was something a lot of college students would like to do. It was great to see students so excited about something.
"This was something they will remember for the rest of their lives."
After arriving at the jump site, complications with the plane occurred, delaying the day's adventures by several hours.
This problem not only worried the students, but left parents wondering if their children had jumped yet.
R.P. Proctor, a sophomore communication major, participated in the jump. He described the event as unforgettable.
"My favorite part of the entire trip was standing at the edge of the plane," Proctor said. "It was at the peak of the suspense and I said to myself, 'Wow, this is pretty awesome looking. I'm about to die.'"
Each student jumped with a trained diver, whom they were strapped to.
Before getting into the plane, the tandem instructors met with the students giving them directions on how to freefall and what to expect.
"The freefall feels like an out-of-body experience," Proctor said, "While I was doing it, I just wasn't thinking, it felt like it lasted for five seconds."
Actually, each freefall lasted for about 60 seconds before the canopy opened.
Once the parachute deployed, instructors and students floated above the grasp of the earth for a few minutes before reaching the ground.
After the landing, Proctor called his parents.
Dr. Russell Proctor, a communication professor, and his wife Pam had been worried about their son all day.
"He had been calling us all day giving us updates on the airplane and when he was about to jump," Dr. Proctor said.
"His excitement made us excited."
As for Dr. Proctor skydiving, he said his parents wouldn't let him go when he was his son's age, so now he's glad he could see his son have the experience.
Just in case more students have the urge to jump out of a plane, the Outdoor Adventure group plans to have another skydiving class next year.