Dole, McGovern debate election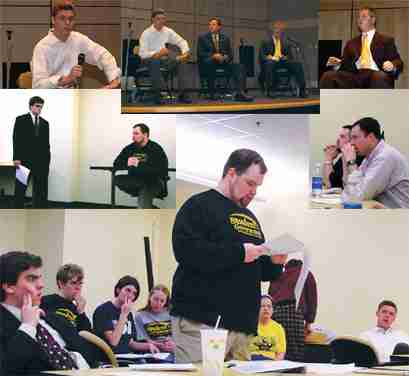 Mark Bennett
Mark Bennett
With the presidential election just 28 days away, it was no surprise that it became the central topic of debate between former Sens. Bob Dole and George McGovern at the fifth annual Northern Kentucky University Alumni Lecture Series Oct. 5.
Dole, the Republican presidential nominee in 1996, and McGovern, the Democratic presidential nominee in 1972, have unsuccessfully run for office. They both agree on the importance of the upcoming election.
"I have a favorite candidate (and) Senator McGovern has a favorite candidate," Dole said to the crowd in Regents Hall. This was made clear throughout the course of the debate, as each speaker defended his respective party's presidential nominee.
"It's a very close race," Dole said.
McGovern agreed: "If there's anything uncertain in our lives, it's the outcome of a presidential election."
There was much discussion on foreign issues, such as the war in Iraq and the fight against terrorism. Dole said it is interesting how foreign policy is taking on a much bigger role in this year's presidential election than in years past.
McGovern said that while he believes terrorism is a major threat in our nation, it has been exaggerated to an unhealthy point.
"I don't think we ought to live with so much fear that we don't enjoy life," McGovern said.
He said he believes the Bush administration is on the "wrong track."
"I'd like to see a change in Washington and to give John Kerry and John Edwards a chance to see what they can do," McGovern said.
Dole later said that while Kerry should be proud of his service in the Vietnam War, "most Americans… are more concerned about what's going to happen 35 years from now than what happened 35 years ago." He said that President Bush offers better leadership in the White House than Kerry would.
Both speakers concurred that Kerry won the first presidential debate, but Dole said that it's not entirely about your debating skills, but also how you appear to the viewers.
Although Dole and McGovern starkly disagreed on which candidate is best fit for the presidency, their close friendship allowed both of them to add humor to the event.
"If Bush and Kerry screw up this election, I think Bob and I are going to run," McGovern said.
"I hope I'm as crisp and energetic as (Dole and McGovern) when I'm 80," NKU President James Votruba said.
Votruba said the university was fortunate to have Dole and McGovern visit as speakers because they both offer a unique perspective to politics.
"Think about it – they have a vantage point that spans (Presidents) Roosevelt and Bush."