Students put on their poker face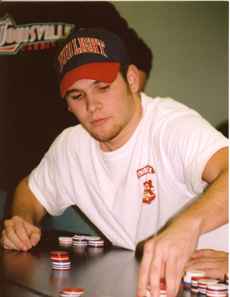 Sarah Santos
With poker faces in place and high hopes of winning the grand prize, students streamed into Norse Commons for the Texas Hold'em Poker tournament Oct. 3 and 4.
The event, planned by Residential Assistant Marty Kuerzi, was an effort to raise donations for the Main Street Baptist Church Care Ministry annual canned food drive.
The first night, 51 students attended and donated almost 150 products for the canned food drive.
"The atmosphere was tense," senior Pat Reynolds said, "everybody brought their poker face which made for a really great time."
Students enjoyed the event while it lasted, but at the end of the night the winner from each table was invited to play in the final game Monday.
Sunday night's seven winners Jeff Jeremiah, Drew Rushing, Jeff Cowens, Rickey Jones, Kristen Fibbe, Justin Bishop and Kevin Miller met to play in the championship.
The group played until only three competitors remained, and in the end Miller was awarded the Sony PlayStation 2. Jeremiah took second place, and Fibbe finished third.
Jeremiah received a full set of Poker chips and Miller left with a $20 gift certificate to Applebee's. The University Housing Office donated the prizes.
Marty Kuerzi said the event "was campus friendly because no money was actually involved, the only thing students were required to bring were two canned goods.
"It was all for charity, so it was pretty easy to organize."
There were no major discrepancies in organizing the event, which ultimately brought together many students for two nights of sociable poker.
"Being an R.A it's really hard to plan an event and get people to come," sophomore Derek Schaefer said, "so it was nice having so many residents attend."