Volleyball team loses 3-1 at home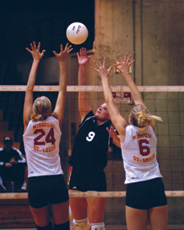 Blue
HIGHLAND HEIGHTS, Ky. – Chelse Doubler and Laura Ellerbusch combined for 35 kills and nine blocks Saturday as the University of Southern Indiana defeated Northern Kentucky University, 30-17, 30-21, 28-30, 30-2.
Doubler finished with 18 kills, eight digs and a .387 hitting percentage as Southern Indiana improved to 10-4 overall, 4-0 in the Great Lakes Valley Conference. Ellerbusch added 17 kills, five blocks and a .452 hitting percentage for the taller Screaming Eagles, who attacked at a .354 clip for the match and won the blocking battle by a 21-11 margin.
Southern Indiana cruised to a 30-17 victory in the opening game as Ellerbusch converted eight kills in 10 attempts with no errors for an .800 hitting percentage. NKU (8-6 overall, 1-2 GLVC) was held to a .000 hitting percentage in the first game with six kills and six errors in 34 attempts.
After Southern Indiana took a 2-0 advantage with a 30-21 victory in the second game, the Screaming Eagles bolted out to a 22-17 lead in the third. NKU, however, rallied behind the play of Kristin Koralewski and Tristen Dye. That duo combined for 11 kills in the third game as NKU rallied for a 30-28 win.
NKU jumped out to a 13-10 lead in the fourth game, but Southern Indiana responded with a 13-7 run to take a 23-20 advantage on a kill by Emily Ryan. The Norse fought back, though, and tied the game at 27-27 on consecutive kills by Dye.
Southern Indiana responded with the final three-points, and Doubler ended the match with her 18th kill off an assist from Stephanie Wilson. NKU hit .469 in the fourth game, but Southern Indiana also attacked effectively (.421) and had four service aces in the final stanza.
Southern Indiana has now beaten NKU two straight times in Regents Hall. The Screaming Eagles posted a five-game win against the host Norse in last season's GLVC Tournament semifinals.
Koralewski finished with 17 kills for NKU, and Dye added 13 kills in her collegiate debut.
NKU will travel to Owensboro, Ky., Wednesday, Sept. 29 to meet Kentucky Wesleyan College at 8 p.m.
*Article by Sports Information