Tuition cut for some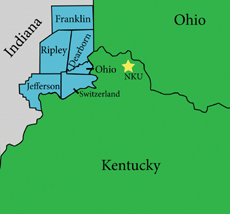 Northern Kentucky University, in a partnership with the State Student Assistance Commission of Indiana, has lowered tuition for the residents of six Indiana counties.
In addition to the spring 2005 tuition cuts, more than 320 students will receive a refund of $300 for the fall semester.
"Anyway that any government can help students to go to school financially is a good thing," Dearborn, Ind. resident Leesha McFarland said.
When McFarland entered the university she received in-state tuition, a practice which was discontinued until now.
"I think students from Indiana are an important part of Northern's community, because I know a lot of people I went to high school with commute to NKU," she said.
Students who live in Dearborn, Franklin, Jefferson, Ohio, Ripley and Switzerland counties will benefit from the new Indiana Contract Rate.
The contract is only scheduled to last this year, though NKU officials say they hope it will become an annual tuition break.
The program applies to all the Indiana students in the six counties who are full- or part-time students seeking associate or baccalaureate degrees.
Students must also have a Free Application for Federal Student Aide already filed for the 2004-2005 year.
Those Indiana students enrolled in Chase Law School, certificate, graduate, postbaccalaureate, law and non-degree programs are not eligible for the tuition breaks.
"It is such a pleasure to be able to tell these students, many of whom are working to put themselves through college, that they'll be getting a tuition refund," NKU President James Votruba said.
Full-time Indiana Contract students will pay $2,784 per semester, and part-time students will pay $232 per semester hour.