Piening returns to soccer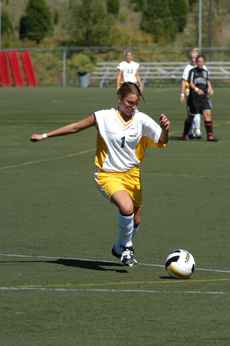 Blue
Women's soccer goalkeeper Lauren Piening is back at the two places where she feels most comfortable: on campus at Northern Kentucky University and in front of the goal for the women's soccer team.
Piening was part of the first recruiting class for the Norse in 1998. She played from 1998 to 2000 before leaving.
"I was approached by Coach (Bob) Sheehan last year at the alumni soccer game and he informed me that I had one year of eligibility left," Piening said.
"I wasn't sure about (coming back), and after talking to Coach Sheehan I decided to return to the women's soccer team."
Piening, a 1998 graduate of Anderson High School in Cincinnati, has a goals against average of 0.49 this season for the women's soccer team.
"This season has started out rough for us but I think we have enough talent to go far in the NCAA tournament," Piening said. "We have an incredible class of sophomores and juniors who are very good."
Piening owns a 6-3 record and has recorded five shutouts for the Norse women's soccer team this season. The shutouts this season have come against tough competitors, including non-conference foes Concord (W.Va.), and Christain Brothers. Piening has also held conference teams Wisconsin-Parkside, Saint Joseph's and Quincy scoreless.
Quincy was one of the hardest fought games of the season. The game went into two overtimes and Piening was able to keep the Hawks out of the net and preserve NKU's winning streak against Quincy, which dates back to 1997.
Piening has been around the Norse soccer program since its beginning and has witnessed the team evolve into a national power.
"Our program continues to grow every year, and Coach Sheehan has done an excellent job building this program in its seven years that it has been around," Piening said.
"One of the main reasons I came to back to NKU was to get a degree. I saw all the people that I was recruited with graduate with degrees from here and that made me really want to get mine."