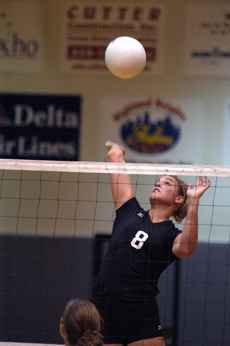 Blue
In this week's hot seat, John interviewed freshman volleyball player Liz Holmes. Holmes received the GLVC player of the week award last week.
John Rasp: What are some of the adjustments you had to make going from playing high school volleyball in Cincinnati to college volleyball? Liz Holmes: Besides the players being bigger, faster and stronger, I also had to deal with the adjustment of playing with a whole new team.
JR: How influential was having head coach Carlos Chia as your club coach, and you coming to NKU? LH: It was very influential in me coming to NKU. I knew I would get better by coming to NKU because Carlos got me to where I am now, and I knew I would be that much better by coming here. JR: What kind of pre-game music do you listen to? LH: I like to listen to Nelly and some of the different mixes that I've made. I also like to listen to MOJO and some oldies.
JR: What kind of personal and team goals have you set for this year? LH: As far as team goals, we want to win conference. Personally, I would like to pick up my passing and serve receive. My goal is to have as many digs as kills.
JR: Who would you say is the strongest volleyball player in terms of who could lift the most weight? LH: Probably Julie Lewis. JR: Have you ever hit someone with the ball really hard? LH: Yeah, I've done it before. Sometimes when I hit the ball real hard I break blood vessels.
JR: I know you were a good basketball player in high school. Do you have any desire to play basketball at NKU? LH: No.
JR: What would you say is your biggest strength on the volleyball court? LH: I think hitting was the easiest thing for me to adjust to in college. Andrea is such a great setter so it was easy for me to come here and hit.