Budget cuts cause WNTV to sacrifice movies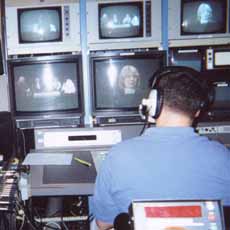 Nicole Jones
University Housing, in an effort to cut back budget expenses, has removed movie programming from WNTV during the fall semester to invest in existing programs and building maintainence.
"The movies were purely entertainment and other programs were more of a necessity," Matt Brown, director of University Housing, said.
WNTV and University Housing have worked together to put movies on the air for student entertainment on campus.
Residence Life Cinema provided the movies previously shown on WNTV. Northern Kentucky University's three-year contract to broadcast the movies expired last year and has not been renewed.
The contract allowed NKU to show "first-run movies," or movies that were still in theater. About 40 to 50 titles were released each month. Of those titles, some were given to WNTV. Students then selected what movies would be broadcast. University Housing would have to pay approximately $17,000 for eight months of movies.
Instead of running the movies, Brown is looking into other options inside University Housing's existing cable plan.
"I would like to add HBO or Showtime to our current cable plan," Brown said. "That would probably cost half as much as another contract with Residence Life Cinema."
Negotiations are underway between the university and the cable company.
The earliest NKU could strike a deal is by the spring semester, maybe fall semester of next year. Brown also said one of the Residential Housing Association's goals is to get the movies back on WNTV.
"I was very shocked to see the cutbacks to WNTV," Josh Gutzwiller, a junior sports marketing major, said. "I did watch the movies when I wasn't watching 'SportsCenter.'"
Eric Franz, a sophomore business major, said, "Tuition went up but there is no room in the budget for movies, so where did all the money go?"
University Housing has used the money from the previous movie contract to increase RHA funding and continue to pay for resident phone, internet and cable bills. Brown said it costs $5,842 a month, or about $70,000 a year, to provide cable to the entire village. During the summer, buildings received new carpets and fresh paint with the newly freed money.
"The goal is to not raise housing costs next year, since tuition will go up again,"Brown said. "We are trying to give students a break."
WNTV is directly affected by the administration's decision. WNTV plans to fill the former movie time slots with videos sent to them by organizations such as National Lampoon Networks.
The station will show original programming; however, it will take some time to get those shows underway.
"We have a news program that will air Thursday through Tuesday and a sports program that will appear weekly," C.B. Droege, current webmaster and former general manager, said. There are some other show possibilities, though nothing has been finalized by WNTV.
WNTV has some positions to fill before programs can be aired. Currently, all positions at the station are voluntary. The practicum course for radio and television students was dropped and stipends have been removed.
"It is hard to get students to come here and be a volunteer. The experience is great and students learn a lot," Droege said.
The students working for WNTV produce and write shows and are deeply involved with production.
"Working for WNTV is more involved than interning with Channel 9," Droege said.
"Here you are involved and active. At Channel 9, you might get a producer a cup of coffee."
"The program was never in danger except for the money issue," Droege said.
"The movie feedback was positive among resident assistants and students, but the cost was too much," Droege said.
Currently WNTV is Channel 15 on the campus cable network. With no programming on yet, the channel has been showing advertisements for campus events coming up. There is also a message from WNTV regarding the movies missing from programming this semester.
"At the moment, Channel 15 and the continuous promotional advertising have not struck the interest of most students," Gutzwiller said.
To work for WNTV or to receive information regarding programming, stop by LA 309 or visit the Web site at http://www.nku.edu/~wntv/.