Women's soccer on roll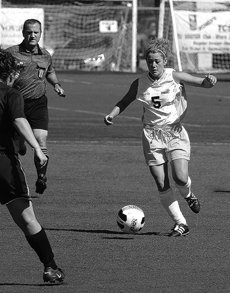 Blue
The Northern Kentucky University women's soccer team scored a major upset Sept. 17 by defeating eighth-ranked University of Wisconsin-Parkside 2-0 at Town and Country Sports Complex.
With the win, the Norse improved to 4-2 (1-0 GLVC). Parkside received their first loss of the early season. The Norse have an unbeaten streak of 58 games against Great Lakes Valley Conference opponents.
The Norse came out of the gates playing extremely well, pinning the Parkside defense down and bombarding them with shots. The Norse out-shot Parkside 4-1 in the first half and 12-5 in the game.
With the clock ticking down in the first half, sophomore Amy Law received a pass from Kristen Lies and put the ball past Parkside goalie Abbigale Wild. The goal gave the Norse a 1-0 lead at the half.
"The goal was huge for us," freshman Jayme Light said. "It took all of the weight off of our shoulders."
After the half, the Norse continued to outplay Parkside.
Around the 58:25 mark of the second half, freshman Jeanna Goettelman put the dagger in the heart of Parkside as she took a pass from Amy Martini and put it past Wild for her first career goal.
It was a physical game, with both teams committing several fouls. Overall, four yellow cards were given out.
"After we scored again, (Parkside) got frustrated and they started playing a little dirty," sophomore Krista Rogers said.
The win was a big one for the Norse coming off of a disappointing weekend after losing to Ferris State last Saturday.
The team had a theme for the game Friday: "We must heal as a team, or die as individuals," Light said. "We had to come out and play a lot better than last weekend."
The Norse won their second consecutive GLVC match defeating St. Joseph's College 3-0 on Sept. 19.