Volleyball team defeats Bellarmine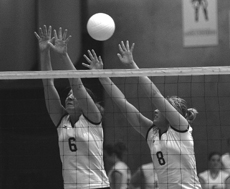 Blue
The road to the Great Lakes Valley Conference Championship began Saturday for the NKU volleyball team as they defeated Bellarmine University 30-28, 30-20, 30-20 at Regents Hall.
The Norse have won five straight matches, including winning the Ashland Volleyball Classic Sept. 11. Their record now stands at 8-4 overall and 1-0 in GLVC play.
"We have lots of work ahead," Head Coach Carlos Chia said. "We are still trying to feel comfortable with who we are playing next to, and we also need to work on communication on the floor."
Senior outside hitter Kristin Koralewski continued her successful season, leading the Norse with 15 kills, two aces, seven digs and a .565 hitting percentage. Koralewski now has 1,103 career kills at NKU and is currently ninth on the all-time Norse list.
Senior middle hitter Maggie Pugh added 8 kills and a .667 hitting percentage.
"Our key players are playing the way they are supposed to right now," Chia said. "It's always important to win every single match, whether it's the first one or last one."
The first game was intense, with both teams going back and forth winning service points.
NKU finally took control of the game late. Koralewski served three big points to send the Norse up 20-16.
"We need to step our game up now for conference play," Koralewski said.
Sophomore setter Andrea Lanham collected 37 assists and 8 digs for the Norse. Junior middle hitter Lynne Fischesser points to Lanham's contributions as a key to the victory.
"Our passing needs work but our hitting was really good today," Fischesser said. "Andrea did an outstanding job getting the ball to our hitters."
The Knights rallied from an 8-5 deficit in the third game to tie the score at 15-15 but NKU used a 15-5 run to end the match.
Koralewski picked up 3 kills to key the run while Fischesser served two aces.
"Hopefully, playing our first home match, we were able to get the excitement and adrenaline out," Koralweski said. "Now we can come out next weekend focused to play."
"It's very important to win the first conference game and get on the right track," Fischesser said. "These games get us ready for the conference tournament."