Religious building has a history on campus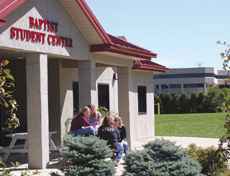 Nicole Jones
The history of the Baptist Student Union is a convoluted one. The BSU is sponsored by the Kentucky Baptist Convention (KBC), and operates outside of university funding or affiliation.
So why is it here?
Mary Paula Schuh, director of campus planning, admits that the prominence of the building appears awkward.
"It's not the best location," she said. Schuh added that the placement of the building was not in the original plans of the university, although "we were the only university in the state that was without a Baptist Student Union."
According to Schuh, in 1971, the KBC bought two separate parcels of land near campus grounds. In 1996, the university swapped those two pieces of land for an agreement that the KBC could build the BSU where it stands now – behind Landrum Academic Center. The university holds a lease agreement with the KBC; in other words, the university owns the land that the BSU is built on, but not the building. The maintenance and operation of the BSU is not paid for by the university. The lease states that it "shall keep and maintain the Center and improvements… provide all janitorial services… (and) provide all utilities for operation."
The remaining question, then, would be does this constitute a violation of the First Amendment to the Constitution regarding the separation of church and state? If the university owns the land that the BSU sits on, doesn't that mean that they are endorsing it? Sara Sidebottom, vice president for legal affairs and general counsel, says no.
"The university does not endorse any religions," she said. "For us, it's a business venture."
The BSU, like every other student organization on campus, had to follow a list of regulations to become a student organization. The university cannot discriminate due to religion when accepting student applications for an organization.
"We're endorsing the organization, not the content," said public relations major Tiffani Jones, who works in the Office of Student Life. "We have an organization that is for the legalization of hemp. We're not endorsing that people use it, just giving them the freedom to be an organization."
The university even has a policy on what can be posted on university grounds. It reads, "The Dean of Students stamp indicates review of the party requesting permission to post notice and does not indicate an endorsement of content." The only posts allowed are registered student organizations.
Sidebottom believes that it is increasingly realistic that in the future, as the campus expands more, other students will begin to start their own religious student organizations. She says that the university will "make every effort to try and make that happen."
The lease agreement for the BSU is in effect until 2037, and the university will be free to break the lease agreement after the first twenty years (2016), as long as they move the BSU to another on-campus site, or pay for the building.
"I don't know if it will be in the best interest of the university to renew it," Sidebottom said. "We'll have to see when the time comes."