Plant built to handle expansion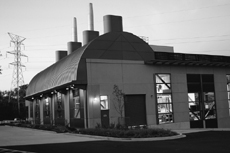 Mark Bennett
There's a new building on campus, and it's more than just hot air.
Northern Kentucky University's new $12 million power plant, used mainly for heating and cooling, can supply the campus with 6,500 tons of chilled water and 120,000 pounds of steam an hour.
Along with heating and cooling every room on campus, the power plant functions as a thermostat for every building.
From the command center, any of the five power plant operators can see temperature, and much like a thermostat in a house, can change the desired temperature of any floor in any building.
Along with monitoring temperature controls around campus, the power plant, in conjunction with DPS, also monitors every fire alarm at NKU. The command center monitors nearly 4,000 points around campus.
"If there are 500 people in the ballroom, we can turn down the temperature from here, and keep everyone comfortable," said Mike Scott, plant supervisor.
The need for a new power plant grew as NKU grew. The old plant, over 30 years old, could no longer support an expanding university.
"Last year, when it got hot, we just didn't have the power to keep everything cool. The old power plant was obsolete, but now we have more than enough," Scott said.
The power comes from three new boilers and two new chillers. The new boilers are three times more powerful than the previous ones.
"With the new chillers, we only have to run one at 80 percent on a 90 degree day," Scott said.
Along with this power, the plant has room to expand with space for another boiler and chiller.
"Right now we could probably run two universities with the power we have, and we will have no trouble with the new University Center and even an arena. NKU was building with future expansion in mind," Scott said.
The power plant operators aren't letting all this power go to their heads. They are keeping students and faculty in mind. They have made comfort a top priority, Scott said.
"If your class is too hot or cold, let us know. We can't watch all 4,000 points around campus, so we need input. Call us," Scott said.
Work Control, who tells the power plant operators of complaints, can be reached from 8:15 a.m. to 4:30 p.m. Monday through Friday at 572-5660, and the power plant can be reached 24 hours a day, 7 days a week at 572-5448.