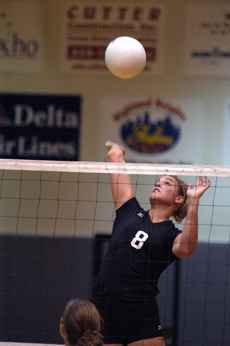 Blue
In this week's hot seat, John interviews David Lies. David is a junior on the men's soccer team and also played basketball for the Norse his freshman season. David's sister (Kristen) also plays for the women's soccer team.
John Rasp: Why is this year's record so much different than last years?
David Lies: I guess this year we've had a lot of good breaks. We have guys that play hard and expect to win now, so we are getting it done.
JR: Between you and your sister (Kristen who plays for the NKU women's soccer team), who will score more goals this year?
DL: Hopefully my sister, because I play in the back. She should definitely get more chances than me and hopefully more goals.
JR: Who will get more cards between you and your sister?
DL: She is a lot calmer than I am. I get mad on the field and she stays calmer, so I'll probably get more cards.
JR: The defense has only given up one total goal so far this year. If you were playing the women's team, which player would most likely score on you?
DL: Amy Law is a real good player. She's fast so that could get us into trouble, but I think we could handle it. We could shutout the girls.
JR: If a playoff game came down to a shootout, which five players would you like to see take the penalty kicks?
DL: Randy Walters, Andy Bacon, Kyle Roberts, Chris Berberich and I want to take the last one.
JR: What is the most fired up you've seen Coach Basalyga?
DL: It was during warm-ups when we were five minutes late and he ran down to the field and chewed us out. We won the game so I guess it worked.
JR: How it like to have 14 freshman on the team this year?
DL: The freshman have been real good for us this year. There are a lot of them, but they have good attitudes, they listen, they play hard, and they are some of the good players on the team.So we like to have them around.