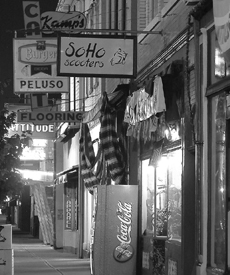 Amy Ehrnreiter
More than 40 years ago, Newport was considered a city of vice. But with the help of concerned citizens, the city has become the prosperous town it's known as today.
NKU hosted a night of nostalgia in remembrance of this less than moral era on Sept. 9.
The event was called "Girls, Guns and Gambling: How Ordinary Citizens Drove Vice out of Newport." The event was held to recall Newport's state of affairs in the 1940s and 1950s.
"Newport was considered one of the worst places in America, second only to New York City," Ed Hengelbrok, treasurer and chairperson of the Campbell County Committee of 500, said.
The committee, formed in the late '50s, was comprised of church members and Newport civil leaders.
Newport elected a new sheriff to help rid the city of immoral practices. In the sheriff's first six months of office, prostitution and gambling were reduced drastically.
At the event, a panel of community members discussed their invovlement in ridding Newport of its vice and villainy.
The evening opened with a welcome speech from NKU President James Votruba, who became interested in the history of Newport after he moved to Northern Kentucky
"I believe there are important lessons to be learned from this era," Votruba said.
Kathy Stewart, NKU's special events coordinator, was surprised at the large turnout.
"A lot of people that came lived through those times in Newport," Stewart said.
"So it's important that the university has taken an interest in preserving that history."