Dorm decorating on a student budget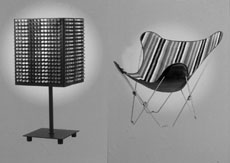 KRT Campus
What do white walls, industrial carpet, and small spaces have in common? They become a blank canvas for the students in the residential village at the beginning of each semester.
NKU guidelines don't allow students to paint, put holes in walls or have candles.
Students are often left with a strict budget and without much flexibility.
According to Judy Thomas, a professional interior decorator, these guidelines can be met while still bringing a good sense of style to a dorm room.
"Panels are a great idea. An old door, a painted piece of plywood, anything like that," Thomas said.
"They can be held in place by a couch or bed, and you can hang frames or other artwork on them while also adding color to the room."
On less of an artistic side, she said light colored pillows could be used to accent white walls.
Mint green, light yellows and blues are a good way to add some color while still keeping the room simple.
Windows are a great thing to decorate, curtains can make any room feel more like home, and plants add life to a small, cramped space.
"Bring color to your items that you can," she said. "Paint your own furniture, it's a great conversation piece."
For cost saving decorations painting clay pots and using them as storage containers, stringing up sea shells around a mirror or window, or even old band T-shirts cut up can add extra flare to a room. Thomas said to always try to do something unexpected and different.
Local businesses help college students that are designer challenged. Pier 1 Imports offers a 15 percent discount to college students with their ID.
Melissa Cummins, manager in training, said any of their employees give free advice and designing tips. In the store, there's an entire area devoted to college students and their decorating needs.
"Free standing shelving, baskets, hampers, rugs and end tables are all things that are on sale right now," Cummins said. "These items would be perfect to add personality to any dorm room."
Wondering what colors are in for the fall? Bohemian sheik and harvest mission are both great colors and are available at Pier 1, Cummins said.
If Pier 1 doesn't have the style a student is looking for, TJ Maxx has a large selection of college necessities. They currently have an entire section devoted to dorm living.
The store has a variety of bathroom styles, combining conventional with alternatvie design.
Whatever the style or budget, local stores and employees are willing to help students turn their boring white walls into canvas' full of personality and color.