Freshfusion helps students discover campus life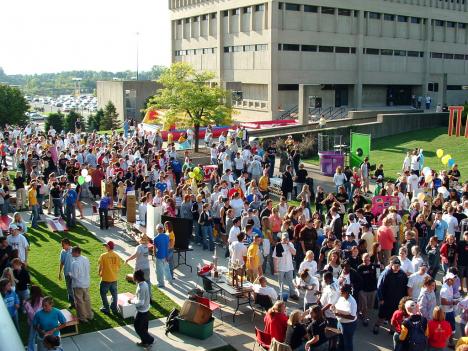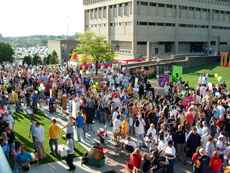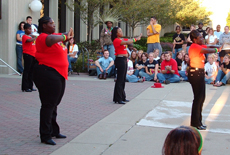 A large crowd of students turned out at the University Center Plaza Sept. 9 for Freshfusion, an event geared toward acquainting freshmen with Northern Kentucky University and its organizations.
The festivities began at 4 p.m. when each University 101 class took turns competing in a "Norse-athalon." They participated in games of tug of war, three legged races, a corn-hole toss and a dizzy bat relay. The competition ended with each class gathering inside Regents Hall. Dan Henry's class won the entire games, with Tira Rogers' and Deidra Fajack's classes taking the silver and bronze awards respectively.
At 5 p.m., the freshmen, adorned with homemade banners and in clothing matching the rest of their classmates, listened to speeches by NKU President James Votruba, Secretary of State Trey Grayson, Student Government Association President Andy Hixson and Vice President Jeff Iker and Norse Men's Basketball Coach Dave Bezold.
Before Votruba began his speech, he fired up the crowd the help of NKU's cheerleaders and some free Freshfusion T-shirts.
"Please have fun here, this is a great place," he said. "These will be some of the greatest years of your life. Enjoy everything NKU has to offer, soak it up in class and out of class."
Grayson was the keynote speaker of the evening. He urged students to get out, vote and make their voices heard.
"Last spring there was a rally right outside our offices in Frankfort," Grayson said. "Legislators and administration were incredibly impressed that some students decided to come down and make their voices heard about tuition increases that have hit this campus as well as campuses all around the Commonwealth. You as freshmen need to come in and step into that legacy and take it one step further."
Iker and Hixson both gave speeches urging students to get involved and meet people.
"As members of University 101, you're getting a chance to develop those friendships and networks that will enrich your college experience and hopefully hook you up with a job after you are out of here," Iker said.
Hixson explained SGA's role on campus.
"It is very important to get involved early and stay involved," he said. "Fraternities are a way to go, Jeff and I are both members of a fraternity. That's kind of what SGA does. The biggest thing we do is we are your watch dogs, whatever the student body needs, we get done."
The speeches were concluded with Bezold's advice about college life: "Don't let your books get in the way of your college education."
Following the various performances by the NKU cheerleaders and dance team, students were given free pizza and soda. They were encouraged to observe the various booths set up of the many organizations on NKU's campus. During this time, NKU's Battle of the Bands' winner Norust and Cincinnati hip hop group the Hilandahz put on shows. Members of the fraternities and sororities from the National Pan-Hellenic Council put on a dance-filled "step show" to end the night's festivities.
Former student and the event's Master of Ceremonies Mike Monks said, "This is great, it gets better every year. I was a freshman six years ago and it's definitely grown since then. To have this many show up at this kind of an event at Northern shows progress socially on campus that is coming with the academic development, and I think it's great."
Kate Brodbeck, a student member on the Freshfusion Committee, thought the event was a success. "I think everything went absolutely fabulous," she said. "I was so excited about tonight; it took a lot of preparation and a lot of hard work. And if anyone has any comments or suggestions, please let anybody in Student Life know and we'll do our best to make it better next year."