Recreation center nears completion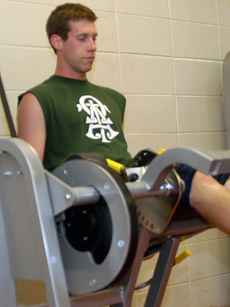 Mark Bennett
The Campus Recreation Center in Albright Health Center is receiving a facelift, with the help of new equipment and major renovations.
"We took what used to be an old gymnastics room and three out of our six racquetball courts and converted those spaces," said Sue Roth, interim director for fitness and wellness. "The old gymnastics room has now become the new fitness room. It has a mezzanine level on top of it, all new flooring put in, mirrors all around, as well as windows that have been added just to open up the space and give it a feel that you can see activity going on."
The weight room now has new Cybex Eagle weight machines, Cybex Arc trainers, Cybex bicycles, true treadmills and true stretching stations. Roth said that the Cybex brand is state of the art and that they chose the equipment because of its excellent reviews.
Another new addition to the fitness room that has not been completed is the "cardiotheater."
"We will have 13 TVs set up. Each of those will have different stations which you plug in with your personal head set you bring," Roth said. This will allow students who are working out to switch between 13 different channels with audio from each. Along with the renovations there are fitness assistants who will be on hand to provide orientations to this new equipment.
The goal of the renovations was to open up space. "The old course in this building was walls everywhere. There was a ton of activity going on, but you couldn't see it," Roth said. "So that was the real focus of the whole plan, to open things up, give it more space, but also give it that feel of activity, life and energy."
The multi-purpose room, which was converted from the three racquetball courts, is now a huge space which can be used for academic, recreational fitness and aerobics classes.
"We'd intended to have a rock climbing wall, but because of budgetary costs, there wasn't availability of funds at this time for that," Roth said. "That is something we are looking to try to get donations for to add to this room; that would be a phenomenal service.
In addition, in the weight room we are going to have plate- loaded, hammer strength equipment, top end lines of equipment and free weights," Roth said. "They are from Iron Grip and are 12-sided. The free weights and dumbbells don't get here until closer to December because of a long 12 to 16 week process of the engraving."
The money to fund these renovations came from the students themselves. "It was student funded – it came from student fees," Roth said. "The money was approved through student government and the students are really going to be the ones to reap the benefits."
According to Larry Blake, Assistant Vice President for Facilities Management, the former facility didn't have the space for all the machines and all the activities they wanted to have they wanted to.
Roth said the renovation project came about because of student activity.
"The renovations started as a student initiative. There was enough interest and enough voices," Roth said. "It's been a couple year process getting it done."
Roth feels that because the center was not originally designed for 14,000 students and the equipment was looking out of date that too many students were opening up memberships at other gyms.
"Now we've heard a lot of people saying that they've given those up, and they are excited and anxious to come over here."