Not all theaters are created equal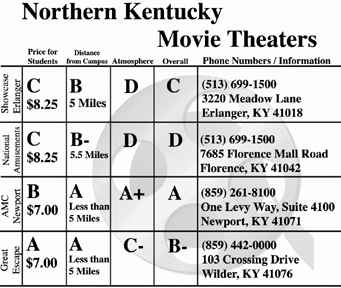 When watching a movie, nothing compares to seeing it in a theater. However, the movie-going experience can be enhanced or ruined by the theater of choice.
This list compiles the best, silliest and downright scariest pros and cons for Northern Kentucky's four movie theaters. From AMC in Newport's student discount that will leave you with money for more popcorn to the annoying throngs of Hilary Duff fans at Great Escape 14.
AMC on the Levee
Since AMC opened a few years ago, it has been a formidable competitor. It's no surprise due to its student discounts, comfortable stadium style seating and nearby bars. Because it's located in Newport on the Levee, there are plenty of things to do after the movie. You can eat dinner, go shopping, have dessert and go to a bar all in one stop.
AMC also has a frequent buyer discount called Moviewatcher, a program that rewards customers with free concessions and tickets based on how many tickets they buy.
But there is a downside; ticket prices are slightly expensive, parking costs a dollar and it's very busy on most weekends. If you don't mind spending an extra dollar to park and leaving early for the movie, this is the theater of choice.
Great Escape 14
Great Escape, on the other hand, opened with little fanfare and still sits quietly a short distance from campus. Student discounts, stadium seating and proximity to school make this the choice for last second moviegoers. That is if you can deal with the hordes of high school kids and sticky floors.
Great Escape can be great for those who have no free time on weekends and even less time to drive far to see the newest show.
Showcase Cinemas: Erlanger
For years, Showcase Erlanger was the only good theater in Kentucky to see a movie.
However, it's now ancient in comparison to AMC and Great Escape.
There isn't a student discount, the seats are uncomfortable and the food prices are high. This theater scores well all around and although you may pay more than AMC and Great Escape, it could be worse.
National Amusements:
Worse describes National Amusements. In comparison to the other three theaters, it is an unpleasant place to see a movie. The prices are high and the theater is outdated. Many of the seats are broken and sometimes when it rains too hard, water leaks from the ceiling.
One redeeming quality is that the hottest new movies are unlikely to sell out there. Also, it's located on Mall Road, so there's plenty of shopping nearby.
The next time you're spending your money at a movie theater, think first about what you want to get in return.
[Editor's note: This evaluation was compiled prior to National Amusement's remodeling.]