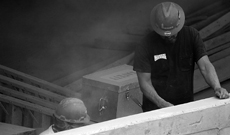 There are 100 parking spaces from Northern Kentucky University's newly-built garage now available.
The remaining 580 spaces are tentatively scheduled to open in October.
With a parking permit, it will be free to park in the spaces through November. After that point, students will have to pay $1 with an NKU All Card and $2 without to park in the garage.
The shuttle service from the old Thriftway parking lot will be discontinued at 5 p.m. Sept. 10.
The garage, located on Kenton Drive, was originally supposed to open on Aug. 23.
"Construction issues" caused the delay of the opening, according to Vice President for Administration and Finance Ken Ramey.
The 100 spaces were tentatively scheduled to open on Sept. 7.
It wasn't until Sept. 9 when the spaces finally opened, however.
Vice President for Student Affairs Mark Shanley sent out an e-mail to all NKU students alerting them about the garage's partial opening and the discontinuation of the shuttle service.