Volleyball team looks to continue success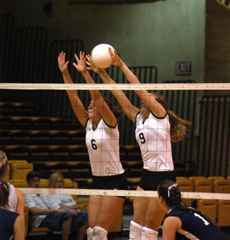 Blue
The NKU volleyball team started their 2004 season Aug. 27 at the West Florida University Invitational in Pensacola, Fla.
The Norse went 3-1 in the two-day tournament, defeating Montevallo (Ala.), West Alabama, and Mesa (Colo.) State College.
The Norse Volleyball team will compete in two additional tournaments during the next two weeks at the University of Findlay and the University of Ashland (Ohio).
"When we face teams that we wouldn't see during our conference schedule, it gives us an opportunity for us to see what it takes to be competitive in our conference," said Norse volleyball coach Carlos Chia.
"Playing in these early season tournaments is an excellent opportunity for our freshmen to get our feet wet in game action."
Last year, the women advanced to the NCAA tournament in Marquette, Mich. before losing to Grand Valley State 3-1 in the regional final.
Kristin Koalewski, Amber Timmons and Magie Pugh are the three seniors leading this year's roster. Juniors Lynne Fischesser, Julie Lewis and sophomore Andrea Lanhman also return.
"Experience will be a big factor for us this year," said Chia.
The recruits joining the team will be able to have an immediate impact.
The freshmen entering this year's program include Megan Seegret, Krista Barnett, Liz Holmes, Elizabeth Droessler, Tristen Dye and Maria Tieman.
"This is definitely a large recruitment class in comparison to previous years," Chia said.
The Norse volleyball team was picked as the preseason favorite to win the Great Lakes Valley Conference Championship.
"This is good to be picked as the preseason favorite to win the conference," Chia said.
"Although, it comes down to who's number one at the end of the season. This is really just a pride and joy thing for us.
"A great thing about being picked as the preseason favorite is that it shows the respect that other GLVC coaches have for the NKU volleyball team."
The Norse will continue its fast tempo style of play this season.
The team takes pride in the unique skills that set it apart from other schools.
"We are the only college volleyball team in all Divisions (I, II and III) that plays a fast type offense," Chia said.
The Norse volleyball team opens their home schedule Friday, Sept. 18 against Bellarmine University in Regents Hall at 2 p.m.