Pace to appear in court
Hang on for a minute...we're trying to find some more stories you might like.
Former Student Government Association President Chris Pace will appear before the Campbell County Circuit Court Sept. 9 for arraignment.
The Campbell County grand jury indicted Pace on a felony charge of tampering with public records Aug. 26. The charge carries a penalty of one to five years.
Northern Kentucky University Police Department Detective Rob Yelton testified that Pace removed public records from the SGA office and discarded them in a campus Dumpster June 29.
Assistant Commonwealth Attorney Anthony Bracke will prosecute, while Marcus Gale will represent Pace as his defense attorney.
Pace could not be reached for comment.

About the Writer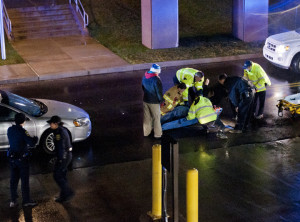 Staff Report, The Northerner
A male pedestrian was hit at approximately 8:45 p.m. Nov. 29 on Kenton Drive between Griffin Hall and Kenton Garage.

At the scene shortly after the...