Men's soccer sees a third straight win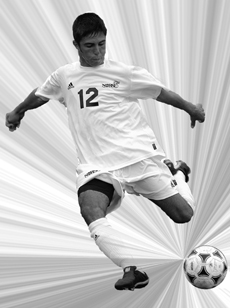 The freshmen at Northern Kentucky University continue to produce winning goals, and the latest first-year hero for the Norse is Andy Bacon.
Bacon's goal with 39 seconds remaining in regulation snapped a scoreless tie and lifted NKU to a 1-0 victory over Christian Brothers (Tenn.) University in the John Toebben Classic presented by Provident Bank last Sunday. The Norse's record improved to 3-0-1 with the victory.
NKU freshman Jason Larkin sent a corner kick into the box with less than a minute left, and the ball deflected off two players toward Bacon. The freshman defender from Lakota East High School knocked the ball into the right side of the net and NKU held on for it's third straight win.
Last Sunday, Larkin's first career goal with 2:23 left in the first overtime gave NKU a 1-0 win over the University of Findlay. Last Friday, freshman Chris Berberich notched his first collegiate goal to give the Norse a 1-0 victory over Ashland University.
NKU goalie Nate Madden – the only senior on the NKU roster – recorded his fourth shutout of the season. The Norse have not allowed a goal in four games.
Christian Brothers dropped to 1-2 with the loss.
At the John Toebben Classic Friday night, the Norse got their second win of the season after defeatimg Ashland University 1-0.
Solid defense by NKU prevented the Eagles from scoring, and a timely goal by freshman Chris Berberich gave the Norse the victory.
Randy Walters found Berberich in front of the net with a cross eight minutes into the second half, and the 6-foot-3 freshman beat Ashland goalie Charles Curren for his first collegiate goal. It marked the second straight game that Walters assisted the winning score to a freshman.
Last Sunday, Walters combined with Jason Larkin on the winning goal in a 1-0 overtime victory against the University of Findlay. Walters now has two assists this season, and both have resulted in winning goals.
NKU goalie Nate Madden acheived his third straight shutout and recorded one save during the Friday game.
The Norse will travel to Rolla, Mo., next Sunday to meet the University of Missouri-Rolla at 1 p.m.
*Article by Sports Information