Meier named Athletic Director of the Year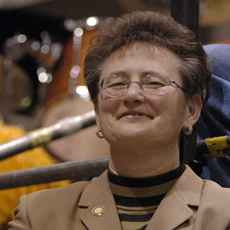 Blue
Northern Kentucky Athletic Director Jane Meier received the 2003-04 Southeast Region Athletic Director of the Year Award from the National Association of Collegiate Directors of Athletics (NACDA) this summer.
"This is a nice personal award," Meier said.
"Although it takes a team to work together, and I'm fortunate to work with some really great people such as James Votruba and Mark Shanley. I'm also very lucky to work with some really great people here in the athletic administration and all the athletic coaches."
The award was created to honor intercollegiate directors of athletics for their commitment and administrative excellence within a campus, according to the NACDA official Web site.
The award spans six divisions (NCAA Division I-A, I-AA/I-AAA, II, III, NAIA/Other Four-Year, JC/CC).
The award is given to four directors from each division and one cross-division international winner.
Meier was presented with the award at the James J. Corbett luncheon in Dallas, Texas. Meier was one of 24 directors of athletics to be honored.
"The NACDA did a good job of putting on the luncheon," Meier said. "It was good to have my family there with me."
Over the past year, NKU won five regular season titles in women's soccer, softball and volleyball, and men's and women's tennis.
NKU athletics also sent three teams to win GLVC tournament championships in baseball and both men's and women's tennis.
"This past year was supposed to be a down year for us in the GLVC. But by the end of the season it was really good to see several of our teams in contention for the championships," Meier said.
"With us having nine of our athletic teams qualify for the NCAA tournament, that was the most of any school in the GLVC conference."
Last May, the softball team advanced to the Division II World Series for the first time in team history.
"It was really neat to accompany our athletic team on their trip to Florida," Meier said.
"We had the softball team competing in the World Series, men's golf and Kim Keyer-Scott in the NCAA Division II Golf Championships.
"This was good exposure for our athletes and a good time for our fans."
Meier has been associated with NKU athletics since 1978 and previously held positions as NKU's women's volleyball, basketball and softball coach.
She became the Director of Intercollegiate Athletics at NKU in 1988.