Fashion show 'bridges gaps'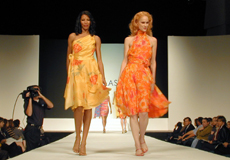 KRT Campus
The sixth annual fashion show, "Klozing Da Gaps" will be held Sept. 10 in the University Center Ballroom.
The event, sponsored by Zeta Phi Beta Sorority, Inc. Alpha Rho Chapter, features students from a variety of ethnic and social backgrounds.
Venita Brewer, a member of the sorority, said it's the biggest fundraising event for the organization. The money collected from the event is donated to a charitable organization that focuses on health awareness.