Comic dog uses insults for laughs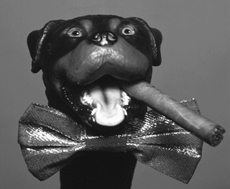 KRT Campus
Triumph the Insult Comic Dog, whose exact breed is unknown, is a cigar-smoking canine insult comedian, first featured in 1997 on NBC's "Late Night with Conan O'Brien."
Kept on a bit of a leash for his early appearances, Triumph soon left the studio to report on events such as the Westminster Dog Show, Bon Jovi's world tour and "American Idol" auditions.
According to his official Web site (www.triumphtheinsultcomicdog.com; Warning: some strong content), Triumph lives on the road, away from his wife Erma, his mistress Ladyfluff and his 284 illegitimate children.
Triumph is actually a puppet voiced and controlled by "Late Night" writer Robert Smigel, who's also producer of the "TV Funhouse" shorts on "Saturday Night Live" and a half-hour show of the same name on Comedy Central. Smigel tries to remain invisible to the camera when Triumph is on, but he almost always makes his way into the frame.
Most of the time, his hands can be seen picking up dropped cigars or adjusting Triumph's "paws."
Triumph says what we can't in a brash way, clashing with the political correctness that dominates comedy in the 21st century. With a nod to the insult comics of the 1950s and '60s, Triumph allows us to laugh at the fanaticism of various groups and, in turn, ourselves.
He's also the king of one-liners. To Jon Bon Jovi: "So you're in a vampire movie, yes? Finally, a role that requires you to suck."
Anyone who saw his interaction with fans waiting in line to see "Star Wars: Episode II" can attest to that. To a female fan: "You must like the male-female ratio out here. You can pick from any number of guys who have no idea how to please you."
Those who did miss it and who've missed the Triumph phenomenon entirely can pick up a new DVD, "The Best of Triumph the Insult Comic Dog." It features his best "Late Night" appearances, plus outtakes, deleted scenes and clips from his early work, in which he hurled insults at guests on the show.
Triumph also released a CD/DVD set in 2003, "Come Poop With Me," featuring his nightclub act and appearances from his many friends, including, O'Brien, Horatio Sanz, Jack Black, Maya Rudolph and Adam Sandler.