Underground Railroad exhibit depicts struggles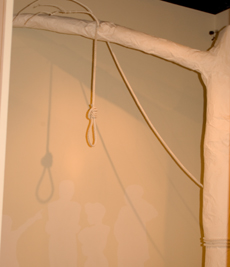 Mark Bennett
The costs of slavery and the price of freedom are being remembered at Northern Kentucky University.
To coincide with the recent opening of Cincinnati's National Underground Railroad Freedom Center, NKU is celebrating with its own Underground Railroad exhibit.
The exhibit, titled Visual Journey: Enslavement, Underground Railroad, Freedom, opened Aug. 2nd and will run through Sept. 24th.
The Fine Arts Center galleries, located on the main and third floors, are filled with paintings, videos and other types of art with a theme of freedom.
Michael Ray Charles, an internationally known artist, aided in the selection of the pieces. He's also featured in the gallery with his work focusing on racial stereotypes.
Over 160 artists from across the country contributed to the event. Only 29 artists are featured for the exhibit, including David Chal.
Chal, an NKU art major, achieved first place honors with his mixed media piece, "Inexpansive, Expansive." He unrolled a ball of twine from the south river bank in Northern Kentucky to the Cincinnati side of the river. The length of the twine represents the distance from slavery to freedom.
Admission is free and the exhibit is open Monday through Friday from 9 a.m. until 9 p.m., or by appointment.
For more information contact David Knight at (859) 572-5148, or by e-mail at Knight@nku.edu.