Hot seat: Chris Thompson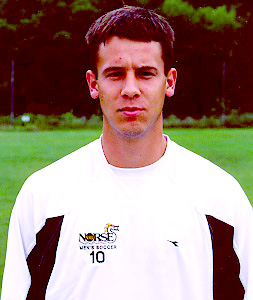 Blue
In this week's hot seat article, John interviewed soccer player Chris Thompson, who played two games on the team last season before having to take a medical redshirt.
John Rasp: When you are conditioning, how many miles do you run? Chris Thompson: In hard conditioning, earlier in the year, we would be doing 10 x 300's and then playing soccer the whole time too which would take its toll on your legs.
JR: Who is going to lead the team in yellow cards this year? CT: Probably Matt Flick. He already got one this year.
JR: What's the most fired up you've seen Coach Basalyga? CT: If you are not hustling, he will definitely get on your case. JR: If a playoff game came down to penalty kicks, who would be your five players from NKU that you would take? CT: Besides myself, Jens Eliassen, Randy Walters, Tony Capurro and other than that, I don't really know.
JR: If you had to pick one player from the NKU women's team to play on your team, which one would you pick and why? CT: I wouldn't want to have to pick women's player to play on the men's soccer team, but if I had to say I would probably take Kristen (Votapek), who's a pretty fast forward because we are hurting for forwards right now.
JR: Fact or Fiction: Soccer is the roughest sport here at NKU. CT: Probably a fact because we don't have football here at NKU.
JR: What opponent are you most looking forward to playing? CT: Bellarmine because they turned me down. A little revenge I guess.
JR: What kind of duties do you have as a freshman? CT: We have to get the balls, get the water, and stuff like that.