Garage to open soon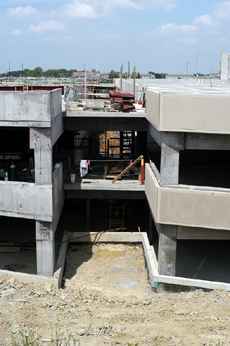 Blue
Northern Kentucky University's newest parking structure remains empty through the second week of classes, despite its original partial opening date of Aug. 23.
"Construction issues" have held up the opening of the garage, according to Vice President for Administration and Finance Ken Ramey.
One hundred spaces are tentatively planned to be available Sept. 7, and the additional 580 spaces will be ready in October.
To help with the overflow parking, the university will continue to offer a shuttle service. It runs from the old Thriftway parking lot next to the Herrmann Center to campus every 15 minutes from the hours of 7 a.m. to 5 p.m., Monday through Friday.
Sophomore David Schuchter has been taking advantage of the free shuttle service to avoid "hunting" for a parking space and said he has had no problems with it.
"It's very effective," Schuchter said.