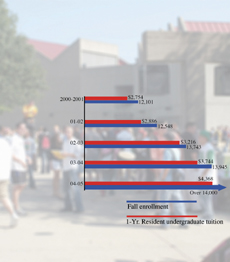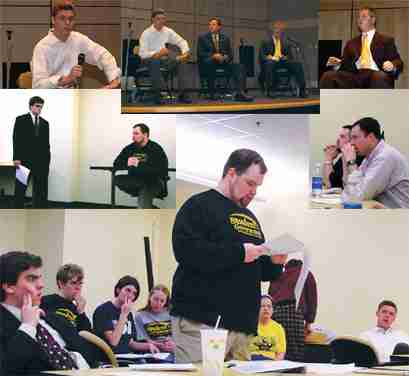 Despite a 16.7 percent tuition increase over the last year, Northern Kentucky University has reached a record-high enrollment with over 14,000 students.
School officials had concerns about the impact of rising tuition on enrollment, yet previous tuition hikes also did not prevent enrollment from increasing. This year's jump followed a 16.4 percent hike last year and a 10 percent increase the previous year, regardless of student protests and a Student Government Association vote against the tuition increase. Still, enrollment has also steadily increased since the fall 2000 semester.
"This fall we expect to again welcome the largest enrollment in our history," said NKU President James Votruba in his State of the University speech Friday.
"Current projections are that we will be well over 14,000 students with a total enrollment increase of about 2 percent."
The total enrollment increase includes a 1 to 2 percent increase in undergraduate enrollment, an almost 10 percent increase in graduate enrollments and an 11 percent increase in the Chase College of Law.
"We'll see continued growth in the number of our African American and Latino students, however we'll have a smaller number of international students due to national security concerns and visa restrictions," Votruba said.
"This is a national concern, but it means that the pipelines of international students to our campus and other campuses in this country are becoming smaller."
While NKU may have lost numbers with international students, it has been able to attract more local incoming students.
Another university record of over 4,000 freshman applicants contributed to the increased enrollment. The growth is not surprising to some school officials, as NKU had already received 2,972 freshman applications by March 1 of last semester.
In fact, Joel Robinson, assistant vice president for enrollment management, had set a goal last semester to receive at least 4,000 applications. This task was made easier after NKU officials revised and increased student recruitment efforts to maintain the university's growth after continued tuition hikes set one school year for in-state undergraduate students at $4,368 this year.
Although tuition is the highest it's ever been at NKU, another reason enrollment increased may be that it is still lower than several other area public schools.
One year's tuition at the University of Kentucky or the University of Louisville are each more than $5,000, and tuition at the University of Cincinnati is double that of NKU.
Still, Votruba says NKU has not seen the end of tuition increases, and critical changes must be made to maintain the university's growth.
"While NKU is becoming the first choice for many of the region's best-prepared high school students, our recruitment and marketing strategies must be enhanced to ensure that we are competing effectively for well-prepared students," Votruba said.
"We must ensure that we are making maximum use of our student financial aid… [and] that student retention is the responsibility of every faculty and staff member on this campus."