NKU softball finishes strong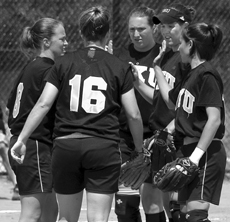 Blue
Last spring, the Northern Kentucky University Softball team was one of eight teams in Altamonte Springs, Florida competing for the NCAA Division II National Championships.
The Norse entered the Division II Finals with a 54-5 record overall, 19-1 in the Great Lakes Valley Conference.
NKU qualified for the tournament; after defeating West Virginia Wesleyan 6-0, Lewis University 2-1, and Grand Valley State University 4-0 to win the NCAA Division II Great Lakes Regional Tournament on their home turf.
"It was very nice and exciting to host the Regionals and win on your own field," Coach Kathy Stewart said.
The team faced Saint Cloud (Minn.) State University in the opening round.
The Norse played well behind superb pitching from Krystal Lewallen. Lewallen allowed only three hits, but lost 1-0 after a run-scoring single in the bottom of the sixth inning.
"We knew they had a good hitting team, Stewart said. "We only had two hits, and two plays at the plate made the difference. They made theirs, we didn't make ours."
The elimination bracket found NKU facing Caldwell (N.J.) College, with the winner advancing and the loser's season ending.
Lewallen pitched well again, allowing only three hits and striking out 15 batters. But after loading the bases in the bottom of the seventh inning, a single ended the season for the Norse.
"One of the hardest parts was (waiting) around to receive your trophy from winning the Regional," Coach Stewart said.
"The whole tournament was part of a sports festival and there were all these young fourth grade players who had adopted us as a team. We had to put a good face on things after the game."
The softball team did not have a senior on the roster last season, and the experience is expected to be a motivational tool for the next season.
"I told them unless you win, you're going to feel disappointed," Coach Stewart said. "The girls who are seniors now are determined to get back there…they know they could have done better."