Prepare for summer blockbusters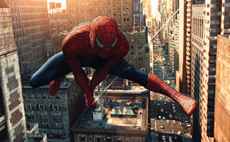 Sony Pictures
Face it: Summer fun will occassionally be drenched by a few raindrops.
That said, it's time to look at upcoming movies this summer, from Hollywood blockbusters to "best-not-viewed" films.
Let's see which box office surprises will help you shake off the gloom of a rainy day, and a ruined picnic.
Blockbusters
One of the most anticipated movies of the summer is "Spider-Man 2," the sequel to the hit movie of 2002.
This time Peter Parker's nemesis is Dr. Otto Octavius, also known as the infamous Doctor Octopus.
Look for a better acting performance from Tobey Maguire and enough action sequences to satisfy any comic book fantic attending this film.
"Spider-Man 2" will open on July 2, just in time for the Independence Day crowds.
"Troy," starring Brad Pitt and Orlando Bloom, should also bring in a heap of money.
The movie chronicles the war between the Trojans and Greeks. The film is sure to showcase plenty of bloody battle scenes. "Troy" will be hitting the screens May 14.
Surprises
Zach Braff, who stars in the television show "Scrubs," writes, directes and stars in the drama "Garden State."
This movie, which got a lot of buzz at the 2004 Sundance Film Festival, follows Braff as he comes home for his mother's funeral, after being at odds with his family for years.
"Garden State" opens July 30 with limited release, so catch it where and when you can.
"The Terminal" is the latest movie that teams director Steven Spielberg with actor Tom Hanks.
This movie is based on the true story of a man stranded in an airport for years.
Hanks play the stranded man, whose refugee papers were stolen.
Hanks is unable to obtain new papers from his government, essentially leaving him without an out from the country he is stuck in.
"The Terminal" will be hitting the screens on June 18.
Comedies
Will Ferrell, fresh off his success with "Elf," stars in "Anchorman." The previews for this movie are hilarious, and if Ferrell is anything like he was in "Old School" this movie should be the most fun film debutting this summer. "Anchorman opens July 9.
Fellow "Old School" actor Vince Vaughn stars with Ben Stiller in "Dodgeball: A True Underdog Story."
The movie follows of group of losers attempting to win a dodgeball tournament to save their gym.
The premise does sound a bit shaky, but it's sure to get plenty of laughs. "Dodgeball" opens June 18.
Avoid:
"Catwoman," starring Halle Berry looks to be a disappointing film.
The movie follows Berry as Catwoman out for vengeance against her former employers.
Take the last "Batman" movies, add Berry in spandex, and you've got "Catwoman," which opens July 23.