Cash in at the 'Bid Bash'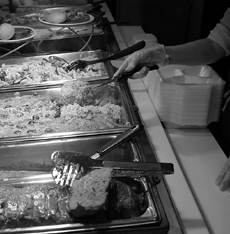 It's finally here! The end of the semester where we can finally relax, or for those graduating, begin life in the "real world."
However, there are still a few more events until we break for summer time.
The second Annual Norsin' Around Bid Bash will be Thursday, April 29 in Regents Hall.
This event is the time for students to cash in for all of the campus events they have loyally attended through the year. Meaning, when students went or participated in Norsin' Around events, they have been accumulating "thunderbucks" (points).
The thunderbucks accumulate on their student id card and they now have the chance to bid on a variety of prizes.
Stephanie McGoldrick, program coordinator in the Office of Student Life, said that the event is just like an auction. "It's basically their (student) rewards for participating in events throughout the year."
Some of the prizes students can bid on are free tuition, scholarships, DVD's, gift certificates, palm pilots, CD's, etc.
Check in for the bash will be at 5:30 p.m. Students will have time to sign in and browse through the rewards that are up for grabs.
The biding will begin at 6 p.m. Following the bash, will be the semester annual Feast for Finals from 8 to 10:30 p.m. in Norse Commons.
This is a time for students to relax and turn their brains off for a couple hours, said McGoldrick.
At the feast, school administrators will serve breakfast.
Along with food, there will be many activities for students to partake in.
Activities Programming Board will give students a chance to make their own music video.
Students can also enjoy themselves by making photo key chains, sandy candy, singing karaoke, and getting hand massages.
A committee called the Campus Life team puts the feast together.
Everything is completely free for students.
It's just a couple of hours of no stress and free fun, said McGoldrick. "It's been very successful and we want to keep up the tradition."
Norsin'Around is a function of the office of Student Life and could be participating at any event for any student organization.