Tuition may rise 16.7%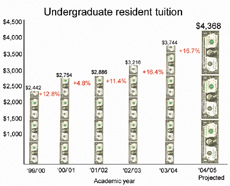 Office of Institutional Research
Students at Northern Kentucky University can expect a tuition increase of 16.7 percent next fall, provided the Board of Regents approves President James Votruba's recommendation at its May 12 meeting.
Votruba's tuition proposal would tack on an extra $624 to in-state students' bills for the 2004/2005 academic year, inflating the cost of tuition from $3,744 to $4,368 per year for full-time undergraduate students.
Nonresident students' tuition would rise from $7,992 to $9,312 per year.
Votruba will recommend the tuition increase to offset a proposed budget increase of nearly $13.7 million for next year.
The university's current budget for the 2003/2004 fiscal year is $125 million.
Votruba told members of the Student Government Association April 19 that his goals in increasing the budget are to sustain the university's momentum, enhance its quality and capacity, and protect against future uncertainty.
"I don't like this plan, and there's no question in my mind that there will be some people who chose not to go to college because tuition is going up," Votruba said. "Don't think for a minute that I like this.
"What I struggle with is finding that balance between affordability…and…quality."
The 16.7 percent tuition increase will include 5 percent for academic quality, 2.5 percent to fund the new student union, and 9.2 percent for operating expenses.
Votruba plans to ask the Board of Regents to also accept a 7.5 percent increase for the 2005/2006 academic year, with an additional increase to be determined based upon operating expenses next year.
Votruba said that NKU will still be the most affordable university in the region, despite the tuition increase.
"We are very, very competitive in terms of our prices," he said. "There's nobody that comes close to us in this metropolitan region."
Part of Votruba's proposed budget calls for $2 million to be set aside in reserve funding.
Internal budget cuts this year provided an extra $2.1 million to make up for state cuts to postsecondary education in January. Votruba said his administration was able to pinch pennies this year, but had to eliminate seven positions in the process. He said this is the "sad side" of making internal budget cuts.
"You can't reduce a budget at a university without reducing people," he said.
The university's funding is currently uncertain because the General Assembly declined earlier this month to approve Gov. Fletcher's budget proposal and tax plan.
Votruba said he has been trying to get General Assembly to reconvene to discuss Fletcher's budget proposal and make a decision before the 2004/2005 fiscal year begins on June 1.
"Right now, the stakes are enormous for Northern Kentucky University and for this region, and all of my time is devoted to trying to get them back to the table," he said.
SGA voted 27-2 on April 5 to take a stance against an anticipated 18 percent tuition increase, a percentage that was projected by Executive Vice President Eric Fegan, who also serves as Tuition Committee chair.
"The administration is not listening to students," Fegan said.
"Just because you pay more for your education doesn't mean you're getting a better education."
Fegan said the organization would vote next week whether to accept Votruba's tuition proposal. SGA President Chris Pace will take the Senate's decision to the Board of Regents meeting for discussion. Pace serves as student Regent on the board.
Votruba said that students could tell him to make classes larger, hire more part-time faculty, and make more cuts to quality if they feel affordability is more important.
"I just don't think that way," Votruba said. "Those are the choices you have to make."