River Huston: 'Every person is precious'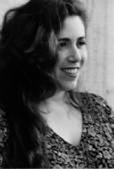 Student Health
The speaking sessions presented by River Huston – poet, journalist, public speaker, performer and activist – focused on AIDS, HIV, sexuality, self-esteem, abuse and body image.
"I really feel that every person is precious and should be appreciated. That's what I would truly like people to take from my talks," Huston said.
"You don't have to find out that you have a deathly disease or anything to realize it. All you need to do is open your eyes and your heart."
The talks took place as two of three sessions on April 13 during Northern Kentucky University's AIDS Awareness Day. Throughout the day, students were allowed to take free HIV tests.
Huston's speaking session was titled "A Positive Life." It was a look at life being HIV positive, and how to keep a positive outlook.
The title was indeed appropriate.
Huston exuded energy, enthusiasm, and a sense of hope during her two sessions in the Otto Budig Theatre.
Sue Roth, acting director of campus recreation, said the idea to bring Huston to NKU was the result of networking.
"The Northern Kentucky Independent Health Department had contacted our Health and Counseling with the idea," Roth said.
"They directed them to Campus Recreation because we do many wellness programs."
Clint Ibele, the Northern Kentucky health department's health educator, had met Huston when he heard her speak at the University of Cincinnati.
He recommended that NKU ask her to speak at their AIDS Awareness Day.
"Huston was an excellent speaker," Roth said.
"The fact that she was so positive about the idea of having safe sex and letting people know they need to think more before doing things.
"I thought [the speech] had a huge impact."
Huston truly understands living with AIDS. In her last year of college, she discovered that she was HIV positive.
Since then, she has become an AIDS activist, and she has not succumbed to despair.
Now having lived with HIV for 14 years, Huston travels the U.S. speaking to audiences about prevention and strength.
When Huston began to talk she approached speaking about her condition differently than many.
Not for a moment did she seem sadden by her predicament.
Nor did she ask for pity.
Instead she took from her life experiences and simply tried to explain how each of them influenced the other.
Huston handled issues that might seem taboo or uncomfortable to talk about.
In the end, she accomplished the task by using wit and honesty.
Her intriguing and fresh approach had such an affect that many listeners returned to the second session.
"Many people feel like I'm a very in-your-face kind of person, but I don't think I am at all," Huston said.
She added, "I speak about issues the way I wish someone had spoken to me about the – straightforward."
Stephanie Gjerde, a part-time instructor for the department of theater and dance, took each of her classes to Huston's sessions.
"I want my students to have the opportunity to have many experiences that opens their minds and can possibly change their views on the world," Gjerde said.
"With that kind of awareness, they would have the compassion to help be part of the solution," she added.
Gjerde said listening to a speech about AIDS would help the students understand one of the problems we face in life.
"Students need to have the chance to hear all sides so that they may create their own ideas that will help to build them into the person they're going to be," Gjerde said.
"I hope that from hearing me speak, if I don't change the minds of people, I at least plant the seed that could begin the change," Huston said.