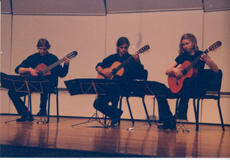 Jason Richmond, Joel Runyan and Melissa Mills perform at the Guitar Enemble?s spring concert.
The department of music presented the Northern Kentucky University's Guitar Ensemble's spring concert on April 19 in Greaves Concert Hall.
The show featured not only the ensemble, but also several soloists, including soprano Youngmi Kim.
Members of the Guitar Ensemble Melissa Mills, Jason Richmond, and Joel Runyan took the stage with professor Christopher Wilke for two baroque introductions by Purcell and Bach.
The quartet's rendition of Bach's "Invention XIII in A minor" was performed with delicate precision and good technique.
There were hardly any questionable tones coming from the group.
Melissa Mills performed two solo pieces after the quartet's introduction. "Prelude No. 1" and "Prelude No. 3" by Hector Villa-Lobos invoked the ancient airs of the guitar's history in a hauntingly dramatic and poignant fashion.
Mills' skilled fingers carefully plucked out harmonics and demonstrated some smooth technical playing in the more lyrical passages of the Villa-Lobos' preludes.
Next, Joel Runyan performed two solo numbers.
The baroque tones of 16th-century composer John Dowland's "Lady Hunsdon's Puffe" were executed with a high degree of style.
The smooth Spanish ballad "Lagrima" by Francisco Tarrega was highlighted with subtle, yet dynamic changes.
Overall, Runyan performed attentatively and with marked professionalism.
The ensemble returned as a trio for selections from Bela Barok's "44 Duos." Runyan and Jason Richmond handled the four short selections and exhibited good ensemble playing techniques, despite a few minor tempo discrepancies.
The next piece played by the full ensemble was Isaac L. Morgen "Dreamscape," presented in two parts.
The first part was another baroque-style song with some Spanish influence.
Part two's syncopation and rhythmic tapping created a dense polyrhythmic ostinato effect.
Kim and professor Wilke took the stage for a performance of two medieval minstrels. While Kim sang, Wilke played the lute on John Dowland's "Me,me, and none but me" and Thomas Campion's "Never weather-beaten sail."
Kim's voice was soft, yet full and captivating.
The combination of voice and lute was well-balanced and projected throughout the concert hall.
The duo's performances recieved a rousing ovation from the audience.
Mills and Runyan performed Fernando Sor's "Andante in A" next.
The duet's sweet lullaby emphasized the soft end of the musical spectrum – the delicate, serenading nature of the classical guitar.
Richmond joined Mills for Jose Ferrer's "Terpischore."
Together they continued to explore rather baroque and Spanish themes, a style that is pervasive in guitar literatures.
The show continued with a solo performance from Colin Myatt, a performer from Saint Henry High School.
Richmond went solo as well. He played Leo Brouwer's "Danza Characteristica." The performance was filled with a fiery intensity and accomplished with stunning accuracy.
The full ensemble returned for an encore.
The show finally closed with a taste of some Brazilian-inspired dance music, rich and lively.
A musical performance should be no less.