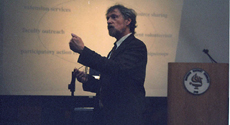 Jeremy Mize
Holmes Middle School eighth graders collaborated with students at Northern Kentucky University to showcase freedom-themed projects April 19 during Celebration of Freedom Day, NKU's first annual service-learning conference.
The eighth grade social studies classes have been studying slavery and the Underground Railroad in preparation for the conference. Dr. David Bishop, Dr. Jon Cullick, Dr. Willie Elliott and Dr. Michele Peers teach service-learning classes at NKU that have assisted the eighth graders with their studies since the beginning of the semester.
"The Holmes pupils came to NKU to visit our class and talk with us about their projects, and my students responded with questions and suggestions," Cullick said.
"A few of my students volunteered to visit Holmes to work with the eighth graders, and one even accompanied the eighth graders on a field trip to Underground Railroad sites in our region."
The conference began at 9:30 a.m. with a welcoming session held in the Otto Budig Theater. The students' "Meaning of Freedom Projects" were then presented in the University Center Ballroom. Students displayed models, gave PowerPoint presentations, read poems and presented Web sites as some of the projects. Ashley Tucker, Garrett Wallace and Jewelie Crabtree of Holmes created a diorama exhibiting a scene from a slave auction. Tucker said she thinks it is important to study freedom because "slavery is bad and everyone should be free."
Cullick encouraged students in his Writing and Citizenship class to be actively involved with helping the eighth graders throughout the semester. His students even read Dennis Brindell Fradin's "Bound for the North Star: True Stories of Fugitive Slaves" along with the Holmes students.
"This is a wonderful book for young readers because it offers inspiring stories of Americans who were determined to realize the true meaning of freedom in a nation that denied freedom to them," Cullick said.
While Cullick assigned several tasks to his students, he said he was "very proud of the NKU students who participated" and put forth extra effort in helping the eighth graders comprehend service-learning.
"This event is a celebration not only of freedom, but also of service-learning and community outreach," Cullick said.
"By getting NKU students involved in the Northern Kentucky region, beyond the boundaries of the university campus, we are helping them to become more aware of how they can use their education not only to improve themselves individually, but also to change the world they live in."
Nationally renowned service-learning expert Dr. Edward Zlotkowski spoke at a luncheon and service-learning workshop.
"We [were] very fortunate to have Professor Zlotkowski with us on Monday," said Laurie DiPadova-Stocks, founding director of the Scripps Howard Center for Civic Engagement. "He probably knows more about service-learning in the academic disciplines than any other single person."
"Students learn in a particularly powerful way when they work with the community," Zlotkowski said.
DiPadova-Stocks said NKU can learn from Zlotkowski's ideas on "crises in our society and how faculty can respond to build a stronger nation."
"We are working to institutionalize service-learning at NKU because it is a solid pedagogy, or teaching method, that engages students in learning from the community,"