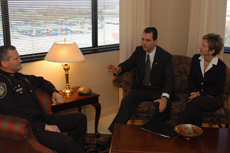 Police officers at Northern Kentucky University will now be a little bit safer, thanks to an endowment from the Kentucky Body Armor Program.
The Department of Public Safety received a check April 14 for $1,940 from the Commonwealth of Kentucky to purchase bulletproof vests for its officers.
Although the university's crime rate is low, interim director Lt. Col. Jeff Martin said, "You never know when there's gonna be a crime on campus.
"Anything that can happen in the community can happen right here at Northern Kentucky University."
He said the university's population of over 14,000 can "attract some of what you don't want."
Officers will be required by DPS policy to wear the Level 2 bulletproof vests at all times while on duty. The vests are made of Kevlar, a synthetic fiber that is five times as strong as steel.
The vests cost approximately $600 each and must be replaced every five years. They will protect officers against shootings, stabbings and physical assaults. Level 2 vests are the highest level that is still comfortable to wear, according to Martin. And they weigh only a few pounds.
The funding was allocated from the state's Kentucky Body Armor Program, through the Department for Local Government, which is funded by the proceeds from selling police-confiscated firearms to federally licensed firearm dealers.
Since DPS had already purchased the vests earlier this year, the $1,940 was considered a reimbursement.
DPS has jurisdiction over the NKU Highland Heights and Covington campuses, and also in Campbell County through an interlocal agreement with the county.
"This is the one thing we purchase that we hope we never have to use," said Jay Hall of the Department for Local Government.
"We're very sorry we couldn't be announcing a large-budget item for NKU as well," said Sen. Katie Stine, R-Campbell, Pendleton, who presented the check to Martin and NKU President James Votruba.
In addition to the sum allocated to DPS, the university had also anticipated receiving state approval of $47.5 million to build a new special events center, but the funding remains uncertain.
The state's General Assembly, charged with drafting a new budget after rejecting Gov. Fletcher's proposed budget and tax plan March 29, declined to create or pass a new budget earlier this month.
The state's lack of a budget leaves the university's funding, including funds for a new special events center, up in the air.
"Never say never in Frankfort," Stine said.
However, Stine cautioned university officials.
"We've never seen our caucus more united," Votruba said, and added that this unity has helped Stine achieve many things for the university and region.
He said "the stakes are too high" to not have educational funding approved.
"Our momentum's gonna continue," Votruba said.
"We're gonna have to build into our budget the uncertainty that exists at this time."