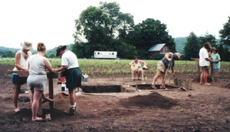 Sharlotte Neely
The annual Northern Kentucky University Anthropology Careers Day will offer interested students a chace to learn more about career opportunities in anthropology on Friday April 23 from 3 to 5 p.m. in Landrum 110.
The event is for anyone interested in learning more about pursuing a career in anthropology or archaeology, said Dr. Sharlotte Neely, an anthropology professor.
Anthropology is the study of human beings, both physically and culturally, in the past and present.
The field focuses mostly in the non-Western world and uses fieldwork methodology, according to the anthropology department.
Anthropology and archaeology are closely related: Both are the study of people.
However, archaeology focuses on past peoples from thousands of years ago.
"We dig up things to find out how people used to live," said Neely.
"We have one dig going on now of Native Americans from 2,000 years ago."
The day will begin with a welcome from Neely, followed by three speakers.
The first speaker is Professor Michael Striker, who will touch on "Careers in Archaeology."
Then Dr. Steve Wolverton will speak on "Careers in Museums."
The third speaker will be Tom Donnelly, who has two degrees in anthropology and one in law, which he will be speaking about.
There will be question and answer sessions throughout the day.
The day will end with the American Anthropology Association Film entitled, "Careers Making a Difference."
This career day will include discussion on professions available in anthropolgy and archaeology.
The current job market is strong for anthropology and archaeology opportunities, Neely said.
This is an open event, and you are free to come and go as you want, Neely said.
Most of the participants will be NKU students, but some might be alumni who have pursued careers in these areas of study, Neely said.
Refreshments will be served and handouts will be available.
For more information visit www.nku.edu/~anthro/careers.html.